Minneapolis — With Florida minutes away from the Final Four, Joakim Noah threw his head back, screamed and pounded his chest as if to announce Gators' arrival.
Noah and his sophomore teammates dispatched the last No. 1 seed standing and are suddenly heading to Indianapolis - perhaps as the favorite.
The young, third-seeded Gators beat a steep learning curve with a 75-62 win over top-seeded Villanova in the Minneapolis Regional final Sunday, and are going to the Final Four a lot sooner than anyone could have thought.
Noah had 21 points, 15 rebounds and five blocks, and fellow sophomore Al Horford added 12 points and 15 rebounds.
"When you're young and you don't play in these situations, you just don't know," Noah said. "I think the more we play in these situations, the better we're going to become."
Point guard Taurean Green scored 19 points for Florida (31-6), which will face No. 11 seed George Mason on Saturday in the national semifinals. No. 2 seed UCLA plays No. 4 seed LSU in the other game.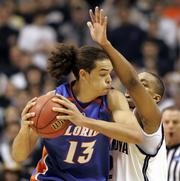 This marks the first time 1985 that no top-seeded team advanced to the Final Four - and the second time in tournament history.
"We're the Gator boys. The Gator boys are hot right now," Noah said.
Villanova star Randy Foye fouled out with 28.9 seconds left and walked slowly to the bench to hug his coaches and teammates, as tears streamed down his face. He carried the Wildcats (28-5) for the second time in three days, without any help from fellow senior Allan Ray.
"Like Randy said, this is going to hurt for a while," said Ray, who had 11 points on 5-for-19 shooting.
Foye had 25 points, but Lee Humphrey helped keep him from getting free behind the three-point line. Foye missed six of his eight 3-pointers.
"We've won games that way. We've shot poorly and then got on the offensive boards and played defense," Villanova coach Jay Wright said. "They were just too good."
This was Florida's eighth straight trip to the tournament under coach Billy Donovan, but so many of his previous teams - minus the national runner-up in 2000 - failed to fulfill their postseason potential.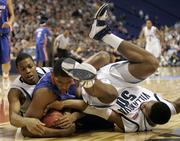 This tight group of sophomores, led by the fiery, ponytailed Noah, vowed to change that after bonding during their first few weeks on campus. Despite a second-round loss in the tournament last year to Villanova, the Gators are a nation-best 15-1 in March over the last two years.
"They were unselfish. They wanted to win, wanted to learn. They wanted to work, and they wanted to get better," Donovan said.
Since their national championship in 1985 as a No. 8 seed, the Wildcats have been trying to get back to the Final Four. With seniors Foye and Ray leading the way, this Villanova squad was no underdog.
Ranked near the top of the AP poll all season, these Wildcats were favorites to get to the Final Four.
"Everybody was crushed," Wright said. "I told them to just cry. Everybody let it out. It's supposed to hurt. I'm so proud of them. I know it hurts for everybody, but I really want to make sure this group feels great about itself."
Copyright 2018 The Associated Press. All rights reserved. This material may not be published, broadcast, rewritten or redistributed. We strive to uphold our values for every story published.