Baghdad, Iraq — Police found 30 more victims of the sectarian slaughter ravaging Iraq - most of them beheaded - dumped on a village road north of Baghdad on Sunday. At least 16 other Iraqis were killed in a U.S.-backed raid in a Shiite neighborhood of the capital.
Accounts of the raid varied. Aides to the Shiite cleric Muqtada al-Sadr and Iraqi police both said it took place at a mosque. The Americans said Iraqi special forces backed by U.S. troops killed 16 "insurgents" in a raid on a community meeting hall after gunmen opened fire on approaching troops.
"No mosques were entered or damaged during this operation," the military said. It said a non-Western hostage was freed, but no name or nationality was provided.
Associated Press videotape showed a tangle of dead male bodies with gunshot wounds on the floor of what was said by the cameraman to be the imam's living quarters, attached to mosque itself.
The tape showed 5.56 mm shell casings scattered about the floor. U.S. forces use that caliber ammunition. A grieving man in white Arab robes stepped among the bodies strewn across the blood-smeared floor.
A total of at least 69 people were reported killed Sunday in one of the bloodiest days in weeks. Most of the dead appeared to be victims of the shadowy Sunni-Sectarian score-settling that has torn at the fabric of Iraq since Feb. 22 when a Shiite shrine was blown apart in Samarra, north of Baghdad.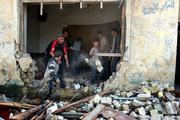 Much of the recent killing is seen as the work of Shiite militias or death squads that have infiltrated or are tolerated by Iraqi police under the control of the Shiite-dominated Interior Ministry.
The two major militia forces in the country are Shiite organizations - the Mahdi Army of al-Sadr and the Badr Brigades, the armed wing of the Supreme Council for the Islamic Revolution in Iraq. Both have ties with Iran.
In an apparent effort to clamp down on police wrongdoing, American troops raided an Interior Ministry building and briefly detained about 10 Iraqi policemen after discovering 17 Sudanese prisoners in the facility, Iraqi authorities reported.
The report was reminiscent of a similar U.S. raid last November that found detainees apparently tortured. That discovery set off a round of international demands for investigations and reform of Iraqi police practices to ensure observance of human rights.
In this case the Americans quickly determined the Sudanese were held legitimately and had not been abused, said Maj. Gen. Ali Ghalib, a deputy interior minister.
Hours before the raid in Baghdad near Sadr City, al-Sadr himself was the apparent target of a mortar attack at his home in the holy city of Najaf, 90 miles south of Baghdad.
At least one mortar round struck within yards of al-Sadr's home, wounding a guard and a passing child, said Sheik Sahib al-Amiri, an aide to the cleric.
Following the raid, Prime Minister Ibrahim al-Jaafari, a Shiite, expressed concern and telephoned Iraqi military leaders and U.S. Gen. George Casey to "discuss the situation," said spokesman Abdul Rezzaq Al-Kadhimi.
He said the prime minister promised government compensation for families of those killed in the raid and called for Iraqis to be patient until an investigation was completed.
Copyright 2018 The Associated Press. All rights reserved. This material may not be published, broadcast, rewritten or redistributed. We strive to uphold our values for every story published.