One way to work on the mental game in tennis is to practice constantly.
Another way is pick up a pair of shutout victories.
Kansas University chose the latter Saturday.
KU's sweet sweep - 7-0 in each match - came against the UMKC and Saint Louis University at the First Serve tennis facility.
"The girls are finally stepping up, and they're competing, and that's all we've asked of them," KU coach Amy Hall-Holt said. "They're taking advantage of it, and the girls are on a big high note right now."
The Jayhawks made quick work of UMKC in the morning session, losing only one game in all of the three doubles matches and six singles matches. The lone setback was in the second set of the No. 6 singles match between KU's Stephanie Smith and UMKC's Fallon Wicker; Smith won, 6-0, 6-1.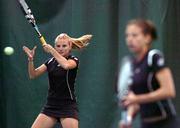 "This morning, they were a little weaker team, but we just came out focused and got it done," said Lauren Hommell, who won her singles match and teamed with Edina Horvath for a doubles victory.
After blanking UMKC, Kansas swept SLU. And just as the Jayhawks did against the 'Roos, KU won every set against the Billikens.
"The doubles has been important, just having the momentum even though it's only worth one point," Kansas' lone senior, Christina Skoda, said. "It just makes it easier on the girls later on when we're playing singles - to relax and play our game instead of worrying about having to win four (matches) instead of having to win three."
Hall-Holt said it was good to see Skoda making a turn-around from her play from earlier in the year.
"We're working with her on her mental game and trying to get her back focused again. And I think she's finally realizing this is her senior year, and she has maybe a month and a half left of competition," the KU coach said. "It's exciting to finally see her really stepping in and getting back to where she needs to be."
Skoda said KU's four-match winning streak was huge for the team.
"If one little thing isn't working, everything goes down - so just making sure that you're confident. If you're not confident, you're just going to be standing back and not doing anything. With tennis, you have to be aggressive, you have to work a point, you have to do all these little things that you need confidence for," Skoda said.
Copyright 2018 The Lawrence Journal-World. All rights reserved. This material may not be published, broadcast, rewritten or redistributed. We strive to uphold our values for every story published.