Two National League sluggers sat out of spring training games Saturday because of injuries, and one of them may never be back.
Houston first baseman Jeff Bagwell said he would start the season on the disabled list and consult with a doctor to see if it would be beneficial to remove bone spurs from his shoulder.
"I may never play again," he said. "It's been 15 years with the Astros. I have to do what's best for me, what's best for the Astros and best for baseball."
San Francisco outfielder Barry Bonds was a late scratch from the Giants' lineup because of a strained left elbow.
Giants trainer Stan Conte stressed the move was strictly a precaution for the seven-time NL MVP, who's closing in on Babe Ruth and Hank Aaron atop baseball's career homers list.
The 37-year-old Bagwell, perhaps the most popular player in franchise history, spent the spring in a contentious battle with the team while he tried to prove he still could play despite a chronically injured right shoulder.
The Astros filed an insurance claim in January to recoup about $15.6 million of the $17 million Bagwell is guaranteed this season in the final year of his contract, arguing he is too hurt to play. For now he is on the 15-day disabled list. He must stay on the injured list all season for the Astros to collect their money.
Bagwell started several spring games at first base, but in two of those he left after two innings because of soreness in his shoulder. He hit .219 with two RBIs, but never had to make a tough throw.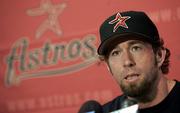 "I'm going to be honest with myself," Bagwell said. "I'm going to be honest with the Astros. I'm out here in the condition where I can only play once every few days, and that's not what I'm out here to do."
Andy Pettitte pitched five shutout innings as Houston played without Bagwell in a 3-1 victory over the New York Mets on Saturday in Kissimmee, Fla.
Bonds went to the training room for treatment after taking batting practice with his teammates before their game against the Chicago White Sox in Scottsdale, Ariz.
San Francisco didn't lack for offense with Bonds shelved Saturday. Jason Ellison hit a grand slam, and the Giants rapped out 21 hits in a 19-7 victory over the White Sox.
In Sarasota, Fla., Bronson Arroyo made his debut with Cincinnati, allowing six runs and seven hits in five innings in the Reds' 11-9 victory over the Minnesota Twins.
In other spring training games:
Cardinals 5, Dodgers 1
At Jupiter, Fla., Sidney Ponson allowed one run in six innings, and Albert Pujols drove in two runs for St. Louis.
Pirates 8, Phillies 3
At Bradenton, Fla., Jose Hernandez drove in four runs, Sean Casey had three hits, and Jose Bautista kept a strong spring going with a solo home run for the Pirates.
Indians 4, Braves 2
At Kissimmee, Fla., Cleveland starter Jake Westbrook gave up one earned run and struck out five in six innings.
Yankees 10, Devil Rays 1
At St. Petersburg, Fla., New York's Johnny Damon played center field for the first time since experiencing left shoulder tendinitis during the World Baseball Classic. Damon caught two fly balls during the second inning. He didn't make a throw. He also went 1-for-2 with two walks.
Tigers 4, Nationals 0
At Lakeland, Fla., Detroit starter Jeremy Bonderman tossed six shutout innings, allowing just two hits. He struck out three and walked one.
Blue Jays 5, Red Sox 3
At Fort Myers, Fla., Eric Hinske and Russ Adams homered, and Toronto pitcher Josh Towers gave up three runs in 52â3 innings in his longest outing of the spring.
Marlins 6, Orioles 5
At Fort Lauderdale, Fla., Matt Treanor hit a two-run single in the ninth inning, and Robert Andino had three RBIs for the Marlins.
Padres (ss) 10, Brewers 4
At Phoenix, San Diego's Brian Giles was 2-for-3 with a triple and three RBIs, and Doug Mirabelli hit a three-run homer in the fifth inning.
Padres (ss) 2, Diamondbacks (ss) 1
At Yuma, Ariz., Chase Headley doubled in the go-ahead run in the seventh inning, and Padres starter Brian Sweeney threw three shutout innings.
Diamondbacks (ss) 6, Angels 2
At Tucson, Ariz., Orlando "El Duque" Hernandez allowed one run and five hits in six innings for the Diamondbacks.
Athletics (ss) 20, Mariners 8
At Peoria, Ariz., Nick Swisher hit a three-run homer in Oakland's nine-run ninth inning. Mariners starter Jesse Foppert didn't record an out and allowed five earned runs on one hit and three walks.
Cubs (ss) 1, Athletics (ss) 0, 10 innings
At Mesa, Ariz., Sean Marshall and three other Chicago pitchers combined to hold Oakland hitless for 92â3 innings. A's first baseman Dan Johnson singled against John Koronka with two outs in the 10th to break up the no-hitter.
Rockies 3, Rangers 2
At Tucson, Ariz., Colorado's Todd Helton went 3-for-3, and Garrett Atkins hit a home run.
Copyright 2018 The Associated Press. All rights reserved. This material may not be published, broadcast, rewritten or redistributed. We strive to uphold our values for every story published.