Oliver Lee spent years touring the world as a U.S. Marine, a Green Beret and as an intelligence officer for the U.S. State Department.
He hit most of the hot spots - Beirut, Egypt, Beijing, Southeast Asia.
"I've dined at the tables of kings and presidents," Lee says. "And I've held dying babies of the poor, trying to assist them. I have a great deal of empathy for the plight of the poor."
Lee - now the Rev. J. Oliver Lee - says those experiences, as well as his education at Kansas University and more than two decades as an attorney, have prepared him for his new job as associate rector of Lawrence's Trinity Episcopal Church, 1011 Vt.
Lee, who started his new job March 1, graduated from Harvard Divinity School in 2002 and was ordained as an Episcopal priest in February 2005. He's been working as an assistant priest at St. Luke's Episcopal Church in Dallas.
While the switch to ministry was a change in careers, Lee says his philosophy on life hasn't changed.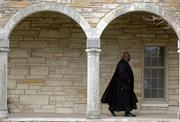 "I've not had an environment where I felt conflicted," he says of his military background and faith. "There's a whole body of work on the just war theory. Overall, my focus in my military career was trying to do justice for the oppressed."
And that, he says, will be a focus in his ministry.
Lee, a native of Buffalo, N.Y., joined the Marines out of high school and later switched to the Army's 12th Special Forces Group, commonly known as the elite Green Berets.
The military supported him when he came to KU in 1975 to study Chinese. He graduated with a bachelor's degree in 1978, left for a year to work for the U.S. Bureau of Diplomatic Security and then returned in 1979 to complete a degree at the KU School of Law. After that, he worked as a federal criminal investigator, was a federal prosecutor and practiced law privately.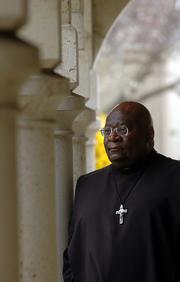 All the while, he says, he stayed faithful to his Episcopalian upbringing. In 1998, he took a vow as an oblate, an associate of a Benedictine community who works to enrich his or her faith life. Because of that, he wears monklike clothing.
"I have always been close to the church," Lee says, "and I've always heard a faint calling to ministry. I usually responded by getting more involved in a lay position or lay activities. Increasingly, the call became more pronounced."
Lee was drawn back to Lawrence last August, when he and his wife were celebrating their 25th wedding anniversary. They were married at Trinity Episcopal and wanted to show their two grown children the church and Lawrence.
While there, he met the Rev. Jonathon Jensen, rector at the church, who was looking for an associate rector and later offered him the position.
At Trinity, Lee's focus will be on starting a Sunday evening worship service and increasing church participation among college students. He'll also work on the church's mission outreach.
"I think, in particular, he has a real love for the prisoners and homeless and others sometimes considered as outcasts," Jensen says. "I think he is the next component in forming a diverse ministry team."
Lee says he enjoyed his career in the military and law. But he's finding more meaning in his new calling.
"It sounds like a cliche, but assisting others is much more gratifying than I can articulate," he says. "What we do here matters for all eternity."
Copyright 2018 The Lawrence Journal-World. All rights reserved. This material may not be published, broadcast, rewritten or redistributed. We strive to uphold our values for every story published.