New York — Wall Street closed out the week with modest gains Friday, though trading was erratic as signs of a cooling housing market conflicted with signals of economic strength and left no real clue as to the Federal Reserve's next move on interest rates.
The latest report on the housing sector showed new home sales tumbling 10.5 percent in February, according to the Commerce Department - the biggest one-month drop in nine years.
With slowing housing demand, Wall Street felt that would make it easier for the Fed to stop raising rates soon.
However, a surge in big-ticket factory orders raised questions about whether such demand would hold steady, possibly increasing pricing pressure and the chance for higher inflation. The Fed meets Monday and Tuesday, and is expected to raise the nation's benchmark rate by a quarter percentage point to 4.75 percent.
While questions remain as to how many more rate increases the Fed will implement, analysts believe stocks still have room to move higher, thanks to a decent economy and the chance for another quarter of strong corporate earnings.
"The economic data points to the Fed stopping (rate increases) sooner rather than later, and that's encouraging," said Jack Caffrey, equities strategist at J.P. Morgan Private Bank. "Combined with the fact that you haven't had a lot of negative pre-announcements on first-quarter earnings, this is a decent environment for equities."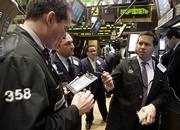 The Dow Jones industrial average rose 9.68, or 0.09 percent, to 11,279.97 on Friday.
Broader stock indicators were higher as well. The Standard & Poor's 500 index added 1.28, or 0.1 percent, to 1,302.95, and the Nasdaq composite index climbed 12.67, or 0.55 percent, to 2,312.82.
Bonds surged after the previous session's selloff, with the yield on the benchmark 10-year Treasury note sliding to 4.66 percent from 4.74 percent late Thursday. The dollar fell against most major currencies, while gold prices moved higher.
Despite volatile trading and a new five-year high for the Dow on Wednesday, stocks finished the week mixed. The Dow was nearly flat for the week, up just 0.32 point, while the S&P; fell 0.33 percent and the Nasdaq climbed 0.27 percent.
Copyright 2018 The Associated Press. All rights reserved. This material may not be published, broadcast, rewritten or redistributed. We strive to uphold our values for every story published.