Randy Johnson and Jason Schmidt were among the half dozen opening-day pitchers who put together strong starts Friday with the regular season a little more than a week away.
Johnson allowed one run and five hits in 61â3 innings in the New York Yankees' 3-1 loss to the Minnesota Twins. The left-hander struck out six and didn't walk a batter.
"For me, these are meaningful games," Johnson said in Fort Myers, Fla. "They prepare me for getting ready for even more meaningful games.
"I've had miserable spring trainings before. But you know what, we all want to go out and do well."
Schmidt pitched seven innings of five-hit ball in the San Francisco Giants' 6-4 win over Colorado in Scottsdale, Ariz.
The right-hander gave up just two infield hits in the first five innings before Colorado rallied for two runs - just one earned - in the sixth.
At Peoria, Ariz., Seattle starter Jamie Moyer prepared for his opening-day start by holding the defending champion Chicago White Sox to one hit in six shutout innings to lead the Mariners to a 4-3 win.
Milwaukee's Doug Davis blanked the Arizona Diamondbacks until Alex Frazier's three-run home run in the fifth. The Brewers beat the Diamondbacks, 16-5.
In Fort Lauderdale, Fla., Baltimore right-hander Rodrigo Lopez tossed six shutout innings in the Orioles' 2-0 win over Boston.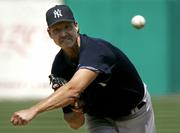 In other spring-training games:
Astros 13, Tigers 3
At Kissimmee, Fla., Houston's Roy Oswalt threw seven innings in his longest outing this spring.
Mets 12, Cardinals 2
At Jupiter, Fla., David Wright had two doubles and two RBIs, and Paul LoDuca a three-run double for New York.
Indians 16, Blue Jays 3
At Winter Haven, Fla., Eduardo Perez hit a grand slam during Cleveland's seven-run second inning.
Phillies 5, Pirates 4
At Clearwater, Fla., Pirates left-hander and opening day starter Oliver Perez gave up six hits and two runs in four-plus innings.
Reds 6, Devil Rays 2
At St. Petersburg, Fla., Aaron Harang limited the Devil Rays to one run and four hits in six innings.
Marlins 9, Dodgers 2
At Vero Beach, Fla., Miguel Cabrera hit a solo home run, and Dontrelle Willis gave up two earned runs in six innings in his first start since returning from the World Baseball Classic.
Nationals 4, Braves 2
At Kissimmee, Fla., Alfonso Soriano hit a three-run home run for the Nationals.
Rangers 5, Cubs 1
At Surprise, Ariz., Rangers starter R.A. Dickey threw six shutout innings, and Rod Barajas and Kevin Mench homered.
Padres 8, Athletics 5
At Phoenix, Mike Cameron, Mark Bellhorn, Vinny Castilla and Khalil Greene homered for the Padres.
Copyright 2018 The Associated Press. All rights reserved. This material may not be published, broadcast, rewritten or redistributed. We strive to uphold our values for every story published.