Ali Pistora may have won this year's All-Area Girls Basketball Player of the Year award, but it's not the award the Tonganoxie High junior cherishes most.
Pistora's brother, Zach, a senior on the Tonganoxie boys basketball team, frequently challenges her to one-on-one matchups in the family driveway, with the winner claiming bragging rights in the Pistora household. Believe it or not, the little sister wins over half of the time.
"Sometimes I let him win so he feels good about himself," Pistora said. "But sometimes I really let him have it. He thinks he is pretty good, but it feels pretty good when I beat him."
The competitive nature that Pistora shows in the driveway also shows on the more conventional basketball court. After advancing to the Class 4A state tournament last season, Pistora was the only returning starter this year and helped lead a team of sophomores and juniors.
She did so to the tune of a return trip to the sub-state title game, where the Chieftains narrowly missed going back to state by one point, suffering a heartbreaking 53-52 loss to Kansas City Sumner on the Sabres' home floor.
Still, Pistora, who led Tonganoxie in scoring at 13.9 ppg, was happy to earn recognition as the area's top player and was pleased with how her team played this season.
Photo Gallery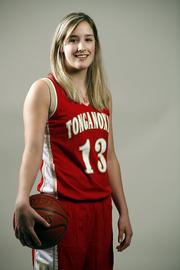 All-Area Girls Basketball
"I am honored to win it, and I know the rest of my teammates take pride in it as well," Pistora said. "We didn't finish the season how we would have liked, but we still had a good season. It feels good to win it."
Pistora's coach, Randy Kraft, gave her most of the credit for the team's success this year.
"It really helps when you have a good point guard like Ali Pistora," Kraft said. "She is probably the most unselfish player I have ever coached. She would much rather pass the ball and set her teammates up than score. She is the kind of player that makes everyone around her better."
Pistora was a sophomore in 2004-05 when she shared the starting lineup with four seniors. That team made it all of the way to state, finishing fourth in the eight-team field. Those seniors departed, leaving Pistora as the most experienced player on this year's team.
"I felt a little bit of pressure, because everybody was keeping their eye on me because they knew that I knew what it feels like to go to state," Pistora said. "I had to step up, but I actually feel like most of my teammates did all of the work. I trusted them completely as far running the plays and everything and they did a great job.
"The award is as much theirs as it is mine."
All-Area Girls Basketball
The All-Area girls basketball team was selected by The Journal-World sports staff and is based heavily on voting by area coaches and performances throughout the season. All area coaches have an opportunity to vote for first-team, second-team and honorable-mention honors.
FIRST TEAM Carrie Lister ¢ Eudora ¢ 5-9 ¢ F ¢ Sr. ¢ Averaged 12.5 ppg and 8.2 rpg ¢ Frontier League all-league selection Megan Ramsey ¢ Ottawa ¢ 5-9 ¢ G ¢ Sr. ¢ Averaged 14.5 ppg and 6.0 rpg ¢ Frontier League all-league selection Megan Reed ¢ Oskaloosa ¢ 5-9 ¢ F ¢ Sr. ¢ Averaged 14.2 ppg and 6.8 rpg ¢ Delaware Valley League all-league selection Kelsey Verhaeghe ¢ Baldwin ¢ 5-5 ¢ G ¢ Jr. ¢ Averaged 12.8 ppg and drilled 50 three-pointers ¢ Frontier League all-league selection
SECOND TEAM Rachel Bogard ¢ Tonganoxie ¢ 5-9 ¢ F ¢ Jr. Megan Blosser ¢ Perry-Lecompton ¢ 5-7 ¢ F ¢ Sr. Jackie Goleman ¢ De Soto ¢ 5-11 ¢ F ¢ Jr. Brooke Pryor ¢ Santa Fe Trail ¢ 5-11 ¢ F ¢ Jr. Carly Santulauria ¢ Mill Valley ¢ 5-4 ¢ G ¢ Fr.
HONORABLE MENTION Elizabeth Baska, Tonganoxie; Michelle Deluna, Eudora; Erin Kracl, Eudora; Kira Gonzalez, De Soto; Ali King, Oskaloosa; Taylor King, Oskaloosa; Katelyn Miles, Baldwin; Amanda Shaver, McLouth; Nikki Snider, Eudora; Rachael Thompson, McLouth
Copyright 2018 The Lawrence Journal-World. All rights reserved. This material may not be published, broadcast, rewritten or redistributed. We strive to uphold our values for every story published.