Minneapolis — These Florida Gators thrive on balance. Naturally, it didn't matter which one of their super sophomores got the chance at the game-winning basket.
Corey Brewer made his only second-half field goal count, turning a twisting, falling-down shot into a three-point play with 27.5 seconds left. Brewer's acrobatics lifted the third-seeded Gators to a 57-53 victory over Georgetown on Friday night in the Minneapolis Regional semifinals.
"Sometimes there's things that are out of your control in these games," coach Billy Donovan said.
Florida (30-6) will play top-seeded Villanova on Sunday in the final, with the winner advancing to next weekend's Final Four in Indianapolis. It's a rematch of a second-round game from last year, a 76-65 Gators loss.
But this is a different season. Joakim Noah had 15 points, 10 rebounds and five blocks in yet another all-around effort. Fellow sophomore Taurean Green scored 13 points, and Al Horford, yep, another sophomore, added 12 points.
"I want to thank Corey Brewer for saving my butt, because I missed a wide-open layup at the end," Noah said. "Corey's play - not to say anything against Corey - a lot of luck comes into making a shot like that."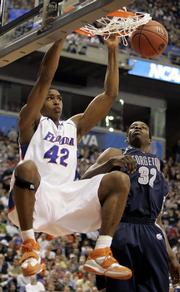 It was more than just Noah who missed on that wild possession. Brewer was the last one to grab the ball on the right wing, and he threw up an off-balance shot that somehow went in as he fell to the court and got fouled by Bowman.
After whirling around and pumping his fist, Brewer made the free throw, making it 55-53.
"I just threw it up and it went in," Brewer said, smiling sheepishly.
Seventh-seeded Georgetown (23-10) had a great chance to take the lead, when Brewer got faked out by Darrel Owens at the top of the key. Owens had a wide-open three-pointer, but it bounced off the back of the rim. Horford was fouled and made two free throws with 6.6 seconds remaining.
"Bad things happen sometimes," said Owens, a senior who made the rounds in a somber locker room to hug his teammates. "I can't look back. I have to be proud of the year we had."
Jeff Green led the Hoyas with 15 points, and Ashanti Cook added 12 points - as their team's quest for a Final Four return fell two wins short.
Coach John Thompson III, his father wearing a headset across the court as part of his broadcasting duties, brought Georgetown to the NCAA Tournament for the first time since 2001.
Copyright 2018 The Associated Press. All rights reserved. This material may not be published, broadcast, rewritten or redistributed. We strive to uphold our values for every story published.