Baghdad, Iraq — The day began like any other at Dijla Primary School in Baghdad's posh Mansour district.
Rows of students in neat gray and white uniforms gathered in the courtyard to raise the Iraqi flag and sing the national anthem. They read passages from religious texts, then cheerfully went to their classrooms.
Headmistress Wajida Sharhan was working in her office when a mortar shell slammed into a second-floor fifth-grade classroom.
"The sound of the explosion was so powerful, as if heaven and earth collided," she said. "I couldn't open my eyes because of the dust. I heard loud screams from the children, and a girl came into my office with her arm nearly cut off."
The torrent of violence that has swept Baghdad and surrounding provinces since U.S. forces invaded three years ago, and surged since last month's attack on a Shiite shrine, has left little unscathed - even schools. What were once sanctuaries of learning have become places of fear, undercutting efforts to rebuild the dilapidated education system left by Saddam Hussein.
Bombs, rockets, mortar and machine-gun fire killed 64 school children in the four months ending Feb. 28 alone, according to a report by the Education Ministry. At least 169 teachers and 84 other employees died in the same period.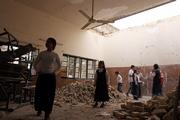 It's unclear why the Dijla school was struck in October, but mortar rounds are difficult to aim. The school is in a religiously mixed neighborhood that is home to a number of government officials and other prominent Iraqis.
But dozens of other schools were targeted in the weeks before December parliamentary elections, when their use as polling stations put them on the front line of insurgents' efforts to derail the vote. More recently, schools have been caught in the wave of sectarian killings unleashed by the Feb. 22 destruction of a revered Shiite shrine in Samarra.
Iraq once had one of the best education systems in the Middle East, but its schools and universities crumbled under two decades of war and neglect. Teaching methods became outdated, enrollment dropped and adult literacy fell to less than 60 percent - one of the lowest rates in the Arab world.
Attacks and threats shut 417 schools between Oct. 27 and Feb. 28, disrupting the education of thousands of children. The violence was concentrated in the capital and the volatile provinces of Anbar, Diyala and Babil, according to the Education Ministry report.
In the most dangerous areas, some parents prefer to keep their children home.
The Education Ministry can arrange transfers, but there is still the trip to and from school to negotiate - a gauntlet of bombs, gunfire and kidnappers. At least 47 children were abducted for ransom in the period covered by the report.
Some schools have resorted to armed guards for protection, and the Education Ministry has also appealed for help from the police and the army.
"Personally," said ministry spokesman Mohammed Hanoun, "I am worried about my children, my friend's children and all Iraqi children."
Copyright 2018 The Associated Press. All rights reserved. This material may not be published, broadcast, rewritten or redistributed. We strive to uphold our values for every story published.