Washington — Lamar Butler dribbled out the final seconds of George Mason's latest improbable victory, then dropped the ball and wagged eight fingers toward a TV camera.
As in, "Round of eight, here we come!"
Butler hopped and skipped to the locker room, yelling over and over: "We're not even supposed to be here!"
Playing a short drive from George Mason's campus, Folarin Campbell scored 16, and the 11th-seeded Patriots used a shutdown defense to beat seventh-seeded Wichita State, 63-55, Friday night in a mid-major matchup, moving within one victory of the Final Four.
"We've been trying to prove ourselves all year. We heard what the critics were saying - that we didn't belong in the tournament," senior guard Tony Skinn said. "The confidence level has risen, and we've gotten a chance to show the country what we're capable of."
Plenty, such as denying the ball to Missouri Valley Conference player of the year Paul Miller, who led the Shockers with 16 points and nine rebounds, and Wichita State's second-leading scorer, Sean Ogirri, who had all of four points on 1-for-8 shooting.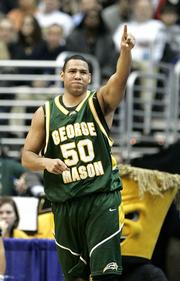 Wichita State finished 20-for-64 on field-goal attempts, including a startling 3-for-24 on three-pointers. The tone was set early, as George Mason broke out to a 9-0 lead and took a 35-19 edge into halftime, thanks in large part to Wichita State's 9-for-30 shooting from the field to that point, 1-for-11 on threes.
"As hard as I tried," Shockers coach Mark Turgeon said, "I couldn't get them out of that funk."
How unexpected was George Mason's giddy, bracket-disrupting run through the NCAA Tournament?
The Patriots didn't receive a single vote in this season's final AP Top 25 - and never had won a single game at the NCAA Tournament until last week.
But they stunned sixth-seeded Michigan State and No. 3-seeded North Carolina, the defending national champion. George Mason's defense was superb in those games, too, as was Campbell, a 6-foot-4 sophomore who, like the rest of the Patriots' starting five, hails from nearby Maryland.
He averaged only 10.7 points this season, but that's up to 17.4 in the tournament. How fitting: An unheralded player lifting an unheralded team.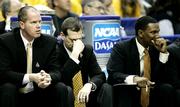 "Every time we go out there," Butler said, "we feel we have something to prove."
Butler and Skinn each added 14 points for the Patriots (26-7), who will meet top-seeded Connecticut or fifth-seeded Washington in Sunday's Washington Regional final.
Whoever George Mason's next opponent is will have to figure out a way to dent the Patriots' tough D. They tied for eighth in Division I this season by holding opponents under 39 percent shooting and shut down Michigan State and North Carolina for long stretches.
"They're very well-coached. They've caused a lot of problems for a lot of teams," said Wichita State's Kyle Wilson, who scored 12 and helped his team make the final score respectable.
But Wichita State (26-9) just couldn't put the ball in the bucket often enough to make a real game of it.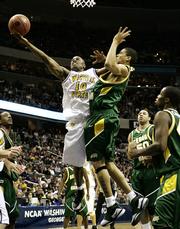 George Mason led by as many as 19 in the second half, and Wichita State's offense never got going. One sequence, with about 2 1/2 minutes left, captured the Shockers' rough night: They got three straight offensive rebounds, but the first two putbacks were strongly contested and didn't fall, and on the third, P.J. Couisnard simply missed an open layup.
Wichita State started hitting shots late, getting as close as 62-55 on Wilson's three-pointer with 23 seconds left. But that was it, and George Mason held on despite shaky foul shooting, then jumped on each other, shouted and pointed to their vocal cheering section.
The Shockers were playing about 1,200 miles from Wichita, Kan. George Mason's main campus, in Fairfax, Va., is about 20 miles from the Verizon Center, where the Patriots played one "home" game this season.
That the Shockers and Patriots were playing at all at this stage was a bit of vindication for mid-major schools. The Shockers reached the regional semifinals by beating the Big East's Seton Hall and the SEC's Tennessee, which was seeded second.
There were questions on Selection Sunday about whether the MVC deserved all four of its NCAA invitations and whether the Patriots belonged as an at-large choice from the Colonial Athletic Association, in part because the team lost two of its last four games.
That they belong is no longer in doubt. But how far can they go?
"Anything," George Mason coach Jim Larranaga said, "is possible."
Copyright 2018 The Associated Press. All rights reserved. This material may not be published, broadcast, rewritten or redistributed. We strive to uphold our values for every story published.