Cleveland — LeBron James saved his best for last - twice.
James hit the first game-winning shot of his career with 0.9 seconds left in overtime, finishing with 37 points and his ninth career triple-double in the Cleveland Cavaliers' 120-118 victory over the Charlotte Bobcats on Wednesday night.
"Game, set, match, I knew it was over," Cavaliers guard Damon Jones said of the final play.
It came after James, who also had 12 assists and 11 rebounds, made a crisp pass that led to a game-tying three-pointer by Flip Murray with 0.4 seconds to play in regulation.
Rookie Raymond Felton scored 30 points to lead six players in double figures for Charlotte, which was without leading scorer Gerald Wallace and starting point guard Brevin Knight. Felton added 10 assists, seven rebounds, five steals and scored the Bobcats' final 10 points.
He couldn't match James, who got the ball at the top of the key with the crowd roaring. He dribbled into a rhythm before firing a 21-footer that rattled the rim and went in as his teammates mobbed him.
"It felt good," said James, adding that he paid no attention to critics who claim he meekly passes instead of boldly shooting with the game on the line.
"I never let it affect me," said the All-Star game MVP, who is averaging 30.8 points. "My teammates know I can make great shots, and that was a prime example of it."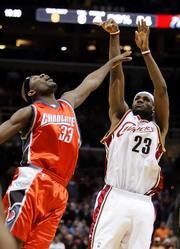 If not for James' pinpoint pass at the end of regulation, however, Cleveland would have lost.
Trapped by the Bobcats' swarming defense near midcourt, James found Murray alone in the far corner for a 104-all tie.
"If my teammates are open, I'm going to get them the ball," James said. "Flip was wide open."
James' final two assists set up Jones and Murray for three-pointers in overtime. A fast-break slam by James with 1:30 left put Cleveland ahead, 116-111.
But Felton hit a three from the corner and seconds later added two free throws for yet another tie.
"I had it going," Felton said, "but LeBron is one of a kind."
James, who went 16-for-23 from the line, followed with two free throws for a 118-116 lead. Felton then spun his way to the hoop to tie it for the 16th and final time at 118 with 20 seconds left.
Cavaliers coach Mike Brown said James called his own number for the winner.
"I wanted LeBron to drive and have a guy to kick the ball to," Brown said of the play he originally designed during a timeout. "On his way out, LeBron told me he would make the shot and wasn't going to pass it.
"I'll live with him taking the shot at the end of every single game."
Cleveland (39-29) has won three straight at home after a three-game road losing streak and is three wins shy of last season's total with 14 to play.
The Cavaliers lead Washington by four games in the battle for the fourth seed in the Eastern Conference and play three of their next four at home, where they are 25-10. The top four clubs in each conference get home-court advantage in the first round.
James improved to 6-0 over the second-year the Bobcats, but it wasn't easy. Charlotte battled back from a 13-point deficit after being outscored 13-2 at the foul line in the first half.
"We listened to the official," coach Bernie Bickerstaff said. "He said the Cavs were getting fouls because they were going to the basket, so we attacked and were rewarded for it."
Drew Gooden and Murray scored 19 points apiece for Cleveland, which is 9-0 when James gets a triple-double.
Pistons 82, Heat 73
Auburn Hills, Mich. - Chauncey Billups had 24 points and 10 assists, and Detroit rallied past Miami in a matchup of the top teams in the Eastern Conference. Shaquille O'Neal (thumb) returned to the Miami lineup after sitting out Tuesday's loss in Minnesota, but the Heat lost his backup, Alonzo Mourning, to a calf strain in the second quarter. As a result, O'Neal played a season-high 43 minutes, scoring 27 points.
76ers 115, Hawks 106
Philadelphia - Allen Iverson scored 29 in his return to the lineup, Kyle Korver had 23 and Chris Webber 21 as the 76ers snapped a four-game slide.
Iverson, the NBA's second-leading scorer with an average of 33.2 points, missed the last four games after he bruised and sprained his foot against Memphis on March 12. The Sixers lost all four games without him and have a tenuous hold on the eighth and final playoff spot in the Eastern Conference.
Andre Iguodala had 17 points for the Sixers, who shot 51 percent from the floor. The Sixers made 10 of 15 three-pointers.
Pacers 95, Bulls 85
Indianapolis - Jermaine O'Neal scored 16 in his first game in two months, Stephen Jackson had 12 of his 24 in the fourth quarter, and Indiana beat Chicago. O'Neal missed 24 games because of a torn left groin. He entered the game in the first quarter for his first appearance since Jan. 24 and scored on his first shot with 5:58 left in the period.
Magic 111, Knicks 87
Orlando, Fla. - Dwight Howard had 23 points and seven rebounds, and the Magic rolled in Steve Francis' return to Orlando.
Howard missed the first start of his career for Orlando after showing up late for shootaround, but the second-year standout scored 10 points in a four-minute span of the first half - many of them on putback dunks for three-point plays.
Celtics 110, Raptors 96
Boston - Paul Pierce scored 32 in Boston's eighth straight home victory over Toronto. Mike James led the Raptors with 31 points, but was held to two free throws in the fourth quarter. Chris Bosh had 24 points, 11 rebounds and eight assists for the Raptors, who lost for the second time in the last six games.
Lakers 87, Kings 80
Los Angeles - Kobe Bryant scored six of his 28 in the last three minutes, Kwame Brown had a season-high 21 points and 12 rebounds, and Los Angeles beat Sacramento to move into seventh place in the Western Conference.
The Lakers lead Sacramento by one game, with New Orleans a half-game behind the Kings in the battle for the eighth and final playoff spot in the West. Utah is another 11â2 games back.
Sonics 114, Bucks 105
Seattle - Chris Wilcox scored a career-high 30, Rashard Lewis added 22 of his 27 in the second half, and Seattle held off Milwaukee.
A night after pulling down a career-high 19 rebounds against Sacramento, Wilcox finished with 14 boards.
Nuggets 104, Spurs 92
Denver - Carmelo Anthony scored 12 of his 32 in the fourth quarter, and Denver beat San Antonio.
Ruben Patterson added 17 points, and Marcus Camby had 21 rebounds for Denver, which has won eight of 10 and moved six games ahead of Utah in the Northwest Division.
Copyright 2018 The Associated Press. All rights reserved. This material may not be published, broadcast, rewritten or redistributed. We strive to uphold our values for every story published.