We all know the history: Abolitionists fought fervently - and even died - for the free state cause in Lawrence.
Now, a century and a half later, organizers of a beloved historical play are staging a revitalization effort that would make those early champions proud.
For 13 years between 1970 and 1983, "The Ballad of Black Jack" anchored Baldwin's Maple Leaf Festival each October, bringing to life the harrowing true story of northeast Kansas settlers battling for Kansas to enter the Union as a free state. After a one-off Lawrence performance in 1986 and an ensuing 14-year hiatus, the show returned to Baldwin in 2001.
But the crowds didn't.
"The attendance at the performances during Maple Leaf Festival weekend in Baldwin just hasn't returned to anywhere near the previous levels when we used to do the show in the '70s and early '80s," says Bob Newton, a longtime cast member who sits on the "Black Jack" board.
"After much discussion, our board just decided it's time to try a different time and place, see if that will bring the show to more people."
So this August, "The Ballad of Black Jack" will be the opening act for Civil War on the Western Frontier activities in Lawrence.
"I think it's a perfect way to start," says Rebecca Phipps, director of the Watkins Community Museum of History, which organizes the annual living history event. "It introduces a new element: musical theater. It's also a form of entertaining education. So I think it's just another way to learn about local history."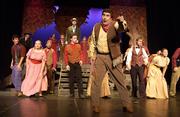 Shifting focus, shifting venues
Exploring Bleeding Kansas history used to be a hallmark of the Maple Leaf Festival as well, says Baldwin playwright Don Mueller, who wrote "Ballad" in 1970 with the expectation that it would be performed only once - for the town's centennial celebration.
In addition to the craft fair, food vendors, music, parade and quilt show, visitors once could take free guided tours to local historical sites, such as the Black Jack Battlefield. Back then, the festival attracted the type of people who might be interested in a historical play, Mueller says, and attendance ran about 600 people for each performance in Baker University's Rice Auditorium.
Since 2001, however, audiences haven't swelled past 150 per outing.
"People that come to the Maple Leaf Festival are not theater-goers," Mueller says. "The festival has become more and more just one huge craft show."
Related content
Clips from "The Ballad of Black Jack" musical numbers
He's hoping that will change with the move to Lawrence, where the Bleeding Kansas focus of the musical will fit right in with Civil War on the Western Frontier. A cast of some 50 actors, singers and dancers of all ages will mount four performances Aug. 10-13 in the Lawrence Arts Center theater, which seats about 300 people.
History by chance
Serendipity led Mueller to the play's storyline.
He remembers the day in 1970 when he was strolling down High Street in Baldwin and came upon a used book shop. He walked in, wandered over to a table and picked up a volume called "A History of Kansas."
Mueller paid 15 cents for the sixth-grade textbook.
"It opened automatically in my hands because that's the place the kids had read often," he recalls. "You could see from the smudges on the edge that dirty thumbs had held it open."
Auditions, show times
"The Ballad of Black Jack" will be performed at 7:30 p.m. Aug. 10-12 and 2:30 p.m. Aug. 13 at the Lawrence Arts Center, 940 N.H., as a kickoff to Civil War on the Western Frontier activities. Auditions for the 2006 production, which marks the 20th year for the show, will take place around the third week in June, with rehearsals starting immediately and lasting for six weeks. The show has a cast of about 50 actors, singers and dancers of all ages, including about 12 children. Volunteers also are needed to help backstage, with costumes, publicity and other tasks. For more information, contact Bob Newton at 331-5787.
The well-worn pages recounted the heroism of two Quaker settlers in the area, Jacob Branson and Charles Dow. Supporting characters who would come to make appearances in "The Ballad of Black Jack" included free state Gov. Charles Robinson, free state militia leader Capt. James Abbott, pro-slavery sheriff Sam Jones and fiery abolitionist John Brown.
"I thought that would make just an ideal basis for a musical," Mueller says.
He wasn't the only one.
A stage family
Lawrence resident Pamela Landon saw "Ballad" during a field trip to Baldwin in elementary school. So in the fall of 2001, when she read a blurb in the Journal-World announcing auditions for a revival of the play, she couldn't pass up the opportunity to revisit the fond memory.
She and her three eldest children - Bryce, Brianna and Blaire - auditioned and played roles in the chorus that year. The next fall, Pamela's husband, Barry, was persuaded to grow a beard and portray John Brown in the 2002 production.
"He was a reluctant warrior there in the beginning," Pamela says. "But he found it to be a very positive experience."
In 2003, the littlest Landon, Blythe, then nearly 4 years old, became part of the cast as well.
"Now it's something we all do together," Pamela says.
Although they never minded the commute to Baldwin, Pamela says she and her family are happy to see "Ballad" migrating to their hometown.
"We're excited about it," she says. "We think it will be a positive move for the show, to maybe get more people familiar with the show and give some other people a chance to see it" for the first time.
Copyright 2018 The Lawrence Journal-World. All rights reserved. This material may not be published, broadcast, rewritten or redistributed. We strive to uphold our values for every story published.