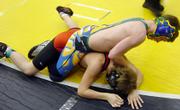 Mid-America Nazarene University's Cook Center was at capacity all day Saturday, where the best youth wrestlers in northeast Kansas gathered for the District Championships.
Sunflower Kids Wrestling posted 25 wins and 15 pins, yielding nine State Championship Qualifiers for next weekend's two-day event at the Topeka Expocentre.
Capturing District championships for Sunflower include Hunter Haralson, Levi Flohrschutz, Reece Conklin, Nick Pursel and Blake Greenfield. Also qualifying for the State tournament was Alan Clothier, Caden Lynch, Josh Hanson and Brandon Brown.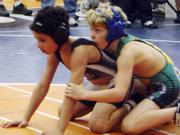 The club goes into next weekend with five top-seeded wrestlers and hopes to put at least that many in the championship rounds. All the action takes place at the Topeka Expocentre on Saturday and Sunday beginning at 8 a.m.
Copyright 2018 The Lawrence Journal-World. All rights reserved. This material may not be published, broadcast, rewritten or redistributed. We strive to uphold our values for every story published.