Natalie Geary has a tough time finding pickled tomatoes, a treat in her home country of the Ukraine.
Since August, she's been able to buy them at Zina's Market, a new Lawrence grocer specializing in Eastern European and Russian food.
"It's sort of weird stuff to you Americans," says Geary, who lives near Topeka but works in Lawrence. "I get whatever we used to eat at home. It's nice to have it here, and it's not too far away."
Lawrence is now home to at least five shops that focus on international groceries, probably the most in the city's history. Nationally, ethnic foods make up about 14 percent of the groceries sold, according to the Agricultural Marketing Resource Center.
Zina Schepkin, a native of the Ukraine who opened Lawrence's newest ethnic market at 2311 Wakarusa Drive, says she learned the importance of ethnic food while she was a cook for Kansas University's residence halls. On the days she made borscht - a beet soup - international students ate it up.
Now, she sells groceries from a variety of countries. The foods include spicy horseradish mustard, sodas, cheeses, salami and chocolates with liqueur fillings.
She says her clientele includes international students, KU students who have studied abroad and other members of the community. But she admits it's difficult in such a niche market.
"The big store is easier," she says. "It has convenience. But a small store, for a start, it's not easy. It's word of mouth and (distributing) fliers."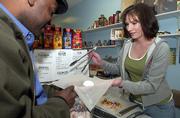 Customers such as Alex Tsiovkh, a Kansas University professor and native of the Ukraine, appreciate the extra effort in getting the store started. He especially likes the Chumak ketchup, spices, sausage and buckwheat sold at Zina's.
"Of course, we like having it close," Tsiovkh says. "It's about a two-minute drive. Those things should be supported - you're never sure if your business will be successful."
Why Lawrence?
International grocers attribute their success in Lawrence to KU and a new focus on gourmet cooking.
"I think it's really good these things are existing and able to stay around when big development is going on in other places in the city," says Tina Stamos, wholesale and special projects manager at Au Marche, 931 Mass. "It's really nice Au Marche still exists and has been able to weather that."
Au Marche, was founded in 1998 and carries a variety of European foods. Stamos says cheeses, meats and chocolates are among the store's best-sellers.
"I think it's a trend that's possibly just now hitting Lawrence," Stamos says of ethnic grocers. "It's already existing a lot in other places. It's really hard to say why it works in Lawrence and why it wouldn't work in Manhattan. I think Lawrence is slightly more progressive than other towns in Kansas, but I don't know if it has anything to do with it or not. It might just be a matter of the right timing and good inventory and putting those things together."
Ananh Manixai, manager of Oriental Supermarket, 711 W. 23rd St., says his customers - most of whom are KU students and faculty - usually know exactly what they're looking for when they come in.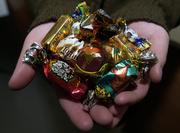 He's willing to explain his products to customers. But he figures the variety of foods - which range from pickled lemons and leeks to frozen squid and eel - still might be intimidating to newcomers.
"You have to know something as the customer coming in," he says. "That's different from a Dillons or a Checkers."
'Status' shopping
Mohammad Al-Zaiti, owner of Mediterranean Market, 3300 Bob Billings Parkway, says he tries to emphasize the health benefits of his foods. Even if customers could find the same products at a chain grocery store, he says his goods likely will be fresher.
"Here, we're always bringing it in and they're always buying it," he says. "It's the best food in the world, the best diet for you. It's beans, dried fruits, olive oil, white cheese."
Susanne Martin, general manager at World Market, 3100 W. 31st St., says her store's offerings from around the globe draw both customers with KU ties and others from the community.
"I think some of it is they assign some status to shopping at World Market, especially if they're townies," she says. "They're a little more worldly because they tried something that wasn't available on their mother's kitchen table."
Sometimes the food tastes better, she says. And sometimes it's really just about the status.
"I think it's personal preference," she says. "I've tried lots of these chocolates, and they're all delicious. But so is a Hershey's bar, in my opinion."
Recipes with an international flavor
A sampling of recipes from countries represented by Lawrence's ethnic markets:
Borscht
2 beets, cut into thin strips
3 to 4 carrots, sliced
6 to 8 potatoes, cubed
1 onion, cubed
2 tomatoes, cubed
1/3 head of cabbage, shredded
1 tablespoon dill, chopped
2 bay leaves
2 tablespoons lemon juice
Sour cream
In a 6-quart stock pot, add the vegetables. Fill the pot with water and add salt and pepper to season. Add dill and bay leaves. Bring to a boil. When it boils, lower the heat to simmer and cover for a couple of hours. Before serving, add about lemon juice. Serve warm with a dollop of sour cream in each bowl.
Source: www.hearttoheartukraine.org
Holupkis (cabbage rolls)
1 head cabbage
2 pounds ground beef
1 egg
1 cup long-grain rice (cook as directed, set aside)
1 large onion, chopped
3 stalks celery with leaves, chopped
1 large carrot, chopped
1 can tomato juice
1 1/2 teaspoons garlic salt
1 teaspoon pepper
Remove the top leaves from the cabbage, cut out the core, boil in salted water for 5 minutes, remove from water, cool and cut leaves off.
Saute all chopped vegetables in melted margarine or bacon grease until tender. Mix ground beef, cooked rice, egg and vegetables together with black pepper and garlic salt. Mix well.
Cut out the veins from the cabbage leaves. Place a few cabbage leaves and the veins on the bottom of a 6- to 8-quart Dutch oven. Put 1-2 heaping tablespoons of the mixture on each cabbage leaf, roll leaf up and tuck in the ends. Place the cabbage rolls side-by-side in the Dutch oven and layer as needed. Pour tomato juice over top. Place any remaining cabbage leaves on top to keep the holupki from burning.
Preheat oven to 350 degrees. Cover the Dutch oven and bake for 1 1/2 hours. Lower heat to 300 degrees and bake for an additional 2 to 3 hours. Make sure cabbage is tender. Cover and let sit in the oven for an hour after it is turned off.
Source: www.hearttoheartukraine.org
Pistachio Rosewater Turkish Delight
1/2 cup shelled natural pistachios
Four 1/4-ounce envelopes unflavored gelatin (about 3 tablespoons)
2 3/4 cups cold water
1 cup cornstarch
3 cups granulated sugar
5 teaspoons rosewater
1 drop red food coloring if desired
1/3 cup confectioners' sugar plus additional if necessary
Oil an 8-inch square baking pan and line with plastic wrap. Oil plastic wrap. In a small saucepan of boiling water, blanch pistachios 3 minutes and drain in a sieve. Rinse pistachios under cold running water and pat dry. Rub skins off pistachios.
In a small bowl sprinkle gelatin over 1/2 cup cold water and let soften. In another small bowl stir together 1/8 cup cold water and cornstarch.
In a 4-quart heavy kettle stir together remaining 1 1/2 cups cold water, granulated sugar, and rosewater and bring to a boil over moderate heat, stirring until sugar is dissolved. Stir in gelatin and cornstarch mixtures and boil over moderate heat, stirring constantly with a wooden spatula, 10 minutes (mixture will be very thick). Stir in pistachios and food coloring and cook, stirring, 1 minute. Pour mixture into baking pan, smoothing top with spatula, and cool. Chill confection, loosely covered, until set, about 4 hours.
Sift 1 tablespoon confectioners' sugar onto a work surface. Invert confection onto sugar and peel off plastic wrap. Cut confection into 1/8-inch cubes. Sift remaining confectioners' sugar over cubes and toss to coat. Wrap cubes in parchment paper (do not use wax paper, plastic wrap or airtight containers because confections will weep) and chill. Turkish delight may be made two weeks ahead and kept chilled, wrapped in parchment paper.
Just before serving, recoat Turkish delight in additional confectioners' sugar.
Source: www.epicurious.com
Thai ginger chicken
3 tablespoons of peanut oil
1 tablespoon chopped garlic
1 cup chicken, cut into bite-sized pieces
1 cup mushroom, sliced
3 tablespoons grated ginger
2 tablespoons fish sauce
2 tablespoons dark soy sauce
2 tablespoons oyster sauce
a pinch of sugar
3 tablespoons chopped onion
2-3 Thai chile peppers
3 tablespoons scallion/green onion, cut into 1-inch pieces
Thai pepper powder
1 cup jalapeno peppers (optional)
Bulbs of 3/4 scallions
Cilantro or coriander leaves for garnish
Mix the fish sauce, soy and oyster sauce ready for use. Bring the oil to the smoking point in an adequately large wok, and add the chicken and garlic, and stir fry until the chicken begins to change color (this is quite quick, so don't overcook).
Add the sauce and stir until it returns to a bubbling consistency, then add the remaining ingredients, and stir until the chicken is cooked.
The recipe for pork is identical, beef if it is used should be marinated in a mixture of 2 tablespoons of whiskey and the fish sauce, soy sauce and oyster sauce, which should be retained after marinating to be added to the cooking.
Sprinkle Thai pepper powder over the dish and serve over Thai jasmine rice, or in a serving bowl with other Thai dishes.
Source: www.importfood.com
Coq au Vin
1 (3-pound) chicken, cut up
1 onion, diced
1 carrot, chopped
3 tablespoons flour (wheat, rice)
1/2 teaspoon salt
1/4 teaspoon pepper
1/2 pound small mushrooms (optional)
1 cup red wine
1 clove garlic, minced
1 teaspoon fresh basil, chopped
Mix flour, salt and pepper. Coat chicken, onion and carrot in flour mixture and set aside. Saute mushrooms, set aside. Brown the chicken pieces a few at a time, set aside. Brown onions and carrots. Put chicken into large casserole on medium-high heat along with onions, carrots and mushrooms.
Combine wine, garlic, and basil; pour over chicken. Cover the casserole, cook until chicken is ready (1-1.5 hours), stirring occasionally.
Source: www.bonjourlafrance.net
Copyright 2018 The Lawrence Journal-World. All rights reserved. This material may not be published, broadcast, rewritten or redistributed. We strive to uphold our values for every story published.