Topeka — Gov. Kathleen Sebelius on Monday told lawmakers to increase school funding and pay for it with expansion of gambling or face a possible special legislative session.
"Passing an inadequate school finance plan is the fastest way to guarantee another special session," Sebelius said as the Legislature appeared deadlocked two weeks before the end of the regular session.
But House Speaker Doug Mays, R-Topeka, said it was Sebelius who had wasted a lot of legislative time by pushing for what turned out to be a failed gambling bill.
"If they hadn't put all their eggs in one basket on gambling, we would be a lot further along right now," Mays said.
A proposal to establish casinos and slots at tracks died in the Senate last week, and bipartisan school funding plans endorsed by Sebelius and key leaders appear on the rocks.
Last year, the Kansas Supreme Court ruled the school finance system unconstitutional because it shortchanged all students, especially minorities. The ruling forced a special session and led to a $290 million, or 10 percent, increase in school funding.
The court also told the state to do a study on the actual costs of education. That cost study has called for another $400 million increase.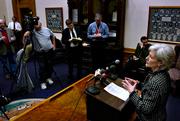 Sebelius and some legislative leaders have endorsed plans that follow the cost study's guidelines but phase in the increase over three years.
Sebelius has called for expanded gambling to pay for the school funding increases.
But Mays said school funding could be paid for by tax reductions to expand the economy.
"Are we trying to pass gambling to fund education, or are we trying to fund education to get gambling?" he asked.
Sebelius accused some in the Legislature of "foot-dragging" and said a one-year school funding plan to be debated by the House this week would fall short of what the court wanted.
She also chided lawmakers who blamed the court for the school funding dispute.
"Too many legislators want to blame somebody else," she said. "This has nothing to do with anybody but inaction here in the Statehouse. They've abdicated their authority from the Statehouse to the courthouse."
But Mays said, "It would be helpful if the governor would be a little bit more positive in her remarks."
Copyright 2018 The Lawrence Journal-World. All rights reserved. This material may not be published, broadcast, rewritten or redistributed. We strive to uphold our values for every story published.