Denver — Double-teams don't slow her, and she'll battle through just about every triple-team, too, even if she's a little unnerved. There simply isn't much an opposing defense can do to stop Oklahoma's Courtney Paris.
Paris finished with 30 points and 15 rebounds Monday night to lift the Sooners to an 86-70 victory over Brigham Young in the second round of the NCAA Tournament.
"She's Shaq in women's basketball," BYU coach Jeff Judkins said.
The 6-foot-4 freshman had her 27th-straight double-double by halftime despite BYU's intense pressure, which initially threw Paris off her game. Those jitters didn't last long.
"In the first half, I panicked a little because I didn't know where the double-teams were," Paris said. "The coaches helped me find them, and I was able to convert more in the second half."
The second-seeded Sooners (31-4) won their 19th straight, moving to the San Antonio Regional semifinals, the first time coach Sherri Coale's team has been there since 2002. The Sooners will play Stanford next.
"I thought the difference in the game was in the second half when we began to hit cutters along with feeding Courtney at the block against the double- and triple-team," Coale said. "We put them in a quandary where they had to make a decision as to what they were going to take away."
Britney Brown had nine points and 10 assists for OU.
Ambrosia Anderson had 16 points for seventh-seeded BYU (26-6) in her last college game, played up the road from her hometown of Colorado Springs.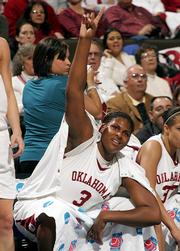 "I have to reflect and look back at the games we played well, and keep the memories that our team has made," Anderson said. "It was a great way to end, and I'm grateful for our record and going to the tournament."
Paris will have the chance to make more memories this season.
With her dad, former 49ers offensive lineman Bubba Paris, watching from the fourth row, Courtney bulled her way through pretty much every defensive set BYU used.
During one sequence midway through the first half, Paris missed two shots while being double-teamed under the basket. But stopping her twice wasn't enough. She fought for the rebound and was fouled on the follow-up, hitting one of two free throws.
Trailing 30-29 with just under three minutes left in the first half, BYU tried a triple-team, but Paris hit a bank shot that began an 8-0 run to end the half.
The Cougars started the second half using one player to guard Paris, and she promptly made them pay, scoring OU's first six points to make it 44-30.
Oklahoma took control from there, and BYU never got within striking distance.
"I've seen so many things this year," Paris said. "Sometimes you have to be patient, wait on it and let the game come to you. I'm a big girl, and eventually I'll make stuff happen."
Stanford 88, Florida St 70
Denver - At this rate, Candice Wiggins will rewrite the record book at Stanford. Might bring a title or two back to The Farm, as well. The sensational sophomore finished with 34 points and seven rebounds to lift the Cardinal into the third round.
LSU 72, Washington 49
Nashville, Tenn. - Seimone Augustus scored 26 points, and top-seeded LSU broke open a tight game with a big second-half run. The Lady Tigers (29-3) advanced to their fourth straight regional semifinal and 10th overall.
DePaul 71, Tulsa 67
Rosemont, Ill. - Khara Smith tipped a pass to herself, hit a go-ahead basket and converted a three-point play with 53.8 seconds left.
Copyright 2018 The Associated Press. All rights reserved. This material may not be published, broadcast, rewritten or redistributed. We strive to uphold our values for every story published.