Metal-mouth. Circuit board. Railroad tracks. Grill.
Teens who wear braces still hear the names, just like they did in the 1950s.
But these days, it's more in jest. And some braces-wearers even like the look.
"The geeky part of it is gone," says Brendon Clark, an eighth-grader at Southwest Junior High School who recently got braces.
Teasing about braces might be out of fashion because even the bullies are getting braces.
According to the American Association of Orthodontists, 3 million teens in the United States and Canada wear braces, up about 30 percent in the last decade. And orthodontists say they're seeing a similar increase in adults who are looking to straighten their teeth.
Both Clark, 13, and his mother, Tami, are part of the trend.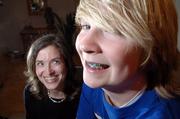 Tami Clark had her braces put on a year ago. Both she and her son have opted for the colorful version of their braces' elastic bands - Tami recently chose green for St. Patrick's Day, and Brendon chose black and blue, one color each from his junior high and his future high school.
Tami Clark says she rarely gets odd stares from others looking at her braces.
"At first, I thought I would," she says. "I've run into so many adults who have braces. It's actually something you can find comrades with."
Less hassle
Getting braces is becoming less inconvenient than it was in the past, says Shelly McColm, an orthodontist who practices at 12 W. Eighth St.
Yes, they're still pricey, with the average cost coming in around $5,000, according to several sources. And you still have to avoid eating sugary foods and treats like popcorn that might end up sticking in the metal.
Brace yourself: Famous people need straightening out, too
¢ Celebrities who have been seen wearing braces as adults include actor Tom Cruise, actress Ashley Judd, singers Gwen Stefani, Lil Bow Wow, Lee Ann Womack and NFL quarterback Brett Favre. ¢ Characters in TV shows with braces have included Tootie in "The Facts of Life," Denise in "The Cosby Show" and Lynn in "ALF." ¢ More recently, Miranda in "Sex and the City" had to sport braces because she pressed her tongue against her teeth for too many years. When her pals asked if she was in pain, she responded, "I'm a 34-year-old woman with braces, and I'm on a liquid diet - pain doesn't begin to cover it." ¢ In an episode of "The Simpsons," Homer must help negotiate with his employer for a new employee dental plan because daughter Lisa needs braces. The episode's mantra was, "Dental plan ... Lisa needs braces." ¢ "Braceface," a cartoon that originated in Canada but now is shown in the United States, features the main character Sharon Spitz, a 14-year-old girl with braces.
But thing are getting better. The average time with braces for McColm's patients is around 18 months, which is gradually decreasing as technology has improved. And industry advances have meant braces are less cumbersome and less painful than in the past.
"Adults who had them when they were younger say it's easier now," McColm says.
That's been the experience of Tim Stauffer, a Kansas University junior who's been wearing braces for four months.
He wore braces when he was a teenager. But he didn't wear his retainer, a piece of plastic or metal that holds teeth in place after the braces are removed, so his teeth reverted to their previous positions.
"I'm telling everyone I see, 'Wear your retainer,'" Stauffer says.
He says he hasn't seen any negative side effects of his tin grin.
"The stigma that comes with braces is such a self-imposed one," he says. "People think they're going to make fun of you. But if you're willing to laugh at yourself about it, it's no big deal at all."
Fashion advances
In addition to the advances made on traditional braces, alternative methods have been introduced.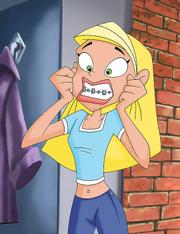 One, Invisiline, uses a series of clear, traylike aligners to gradually bring teeth into place.
Another, lingual braces, are metal aligners placed on the inside of teeth, to avoid the metal-mouth look.
And for those just wanting to hide their traditional braces as much as possible, there are ceramic brackets that blend in better with teeth than metal.
But many children and teens don't mind the look of metal braces, especially now that they can change the color of their elastic bands every six weeks or so.
"I like the light colors," says Casey Hutchins, a seventh-grader at Central Junior High School. "The dark colors make your teeth look dirty."
Morgan Rego, another Central seventh-grader, says he just smiles with a shiny grin when his peers make fun of him for having braces.
"If you have braces and glasses, they think of you as a geek or a nerd," he says. "And then they have to get them, and it's funny."
Copyright 2018 The Lawrence Journal-World. All rights reserved. This material may not be published, broadcast, rewritten or redistributed. We strive to uphold our values for every story published.