Boston — After missing three-pointers at the buzzer in consecutive games, Kobe Bryant settled matters early against the Boston Celtics.
Bryant had 43 points, five rebounds and five steals, and the Los Angeles Lakers salvaged the finale of a three-game road trip with a 105-97 victory over Boston on Monday night.
Bryant shot 18-for-39, and Lamar Odom added 17 points and nine rebounds for the Lakers, who never trailed and pulled a half-game ahead of Sacramento for seventh place in the Western Conference. The Lakers avoided falling below .500 for the first time since a loss to Utah on Jan. 3 dropped them to 15-16.
"This was a must win for us," Bryant said. "We played well the entire trip, but it's just that we weren't able to close things out. Tonight was a win that we desperately needed."
Paul Pierce scored 26, and Tony Allen added a season-high 18 for the Celtics, who have lost four of five to drop four games behind Philadelphia in the race for the eighth Eastern Conference playoff spot.
The Lakers' first two games of their road trip ended with missed contested three-pointers by Bryant. The Lakers lost to New Jersey, 92-89, on Friday and to Cleveland, 96-95, on Sunday despite leading by as many as 18 against the Cavaliers.
This time, Bryant scored 16 fourth-quarter points - including the Lakers' last 12 - to make sure the game didn't come down to the closing seconds.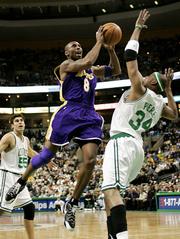 "When the game is on the line, they put the ball in my hands," Bryant said. "I've gotta do what I've gotta do, I don't care if it's 50 shots, 60 shots, five shots."
Pierce rolled his right ankle early in the first period, but returned to the court two minutes later and promptly made a turnaround jump shot.
Pistons 91, Hawks 84
Auburn Hills, Mich. - Rasheed Wallace had 26 points and eight rebounds to help the Pistons clinch the Central Division title.
Detroit (53-13) also reduced its magic number to clinch the Eastern Conference's best record to nine over Miami. The Hawks have lost five of six.
Al Harrington led the Hawks with 23, and Joe Johnson had 17.
Clippers 99, Rockets 91
Houston - Clippers guard Sam Cassell scored 24, and the Los Angeles franchise moved to 13 games over .500 for the first time since the 1975-76 season.
Corey Maggette added 20 points for the Clippers, who haven't been this many games over the break-even mark since they were the Buffalo Braves.
Yao Ming had 25 points and 17 rebounds for his 27th double-double as Houston lost its fifth straight game.
Bucks 100, Trail Blazers 94
Portland, Ore. - Michael Redd scored 23, and T.J. Ford added 19 points and 10 assists for Milwaukee.
After going into halftime tied, the Bucks outscored Portland, 31-16, in the third quarter. The Blazers rallied to get within one with 1:49 left, but Milwaukee closed the game on a 6-0 run.
Zach Randolph had 23 points and nine rebounds for the Blazers.
Copyright 2018 The Associated Press. All rights reserved. This material may not be published, broadcast, rewritten or redistributed. We strive to uphold our values for every story published.