Quick: Before Ashli Hill becomes a household name, it's time to get her a nickname that's really, really cool.
She has been called Big Ash by school friends and Stretch by basketball teammates, but the Southwest Junior High eighth-grader either 1) needs to narrow it down to one of the two, or 2) find another moniker so brilliant, no other nickname ever will be considered again.
Remarkably, there's not a whole lot of urgency involved in this plea, since Hill still is more than a year away from high school, more than four away from college and already is getting loads of early Division I interest for her basketball potential.
Of course, being 6-foot-4 and 14 years old does plenty to make big-name head coaches like Kansas University's Bonnie Henrickson and Kansas State's Deb Patterson dream of what could be by 2010.
So how did Hill pop up on the radar so fast, so young? And how does she handle such a life - being taller than 99 percent of the world's females and being the object of scorn from every poor sapling forced to face her in the paint?
For one, genetics made height nearly inevitable for Ashli Hill. Her mother is 6-1, and her father is 6-6. An uncle of Ashli's stands 6-10.
When Hill's older sister, now 17, peaked around 5-5, it was obvious to Ashli's mother, Gail, that all the family height was just ready to burst out of her younger two children.
Ashli, as it turned out, got the brunt of it.
She picked up a basketball as a first-grader and has yet to let it go. Now playing year-round for Southwest and a couple of offseason teams, Hill admits that she only gets about six weeks off from basketball in a normal year - and that's when she goes outside and shoots hoops on her own.
"She doesn't leave a basketball alone," SWJH coach David Schneider said.
Sure, Ashli has tried other sports. She used to play softball, and tried volleyball for the Lady Bulldogs last fall. But the motion of a spike - start your closed fist at your stomach, swing it around from your waist, behind your shoulder, over your head and WHACK! - carried over to the basketball court, which led to some aggressive - and less than fundamental - attempts to block shots.
As a result, volleyball's now a thing of the past. But it's easy to understand why Hill wanted to try it. She can sometimes score effortlessly, has an enormous rebounding edge few have ever experienced, yet doesn't like either of them as much as another aspect of playing inside.
"I really like," she says, "to stuff people."
Here's where the resentment of being so different than most 14 year olds comes in - opposing teams (and their fans) just don't like Ashli Hill inside against them. And often, they don't keep it to themselves.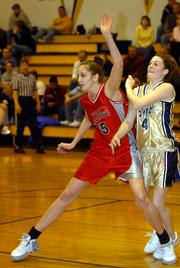 When Hill makes a block cleaner than a new pair of sneakers, fans scream for a foul to be called anyway. You see, there's the reach-in foul, the charging foul and the blocking foul. But what about the "geez, that's just unfair" foul?
"I get a lot of bad sportsmanship," Ashli admits.
Up in the stands, Gail hears the jeers. And as each game passes, she gets better at ignoring that motherly instinct to protect her daughter and snap back.
"I've learned to shut my mouth," Gail said. "Otherwise, it can cause a lot of trouble."
Ashli's learned to brush it off, too. With junior high traditionally such a tough stage of a teenager's life, particularly to those who don't feel like they fit in, Ashli seems almost proud to be unique.
She jokes that nothing grows but her long legs. She's open about how different life is as a 6-4 eighth-grade girl. And, she realizes, she needs to take the hand she's dealt and make the most of it.
So life, outside of school, family and friends, is about basketball now. She led Southwest to a 15-0 record and the Washburn Rural Tournament championship this winter. Schneider admits he likes the offense to go through Hill, but also added that "she has a lot of good players around her."
Already, Division-I coaches have caught on to Ashli. Gail said nine of the Big 12 Conference schools have written letters, as well as other programs like national power Tennessee. They'll keep writing until Ashli's first day of ninth grade this summer - the day NCAA recruiting rules kick in. Thereafter, contact is forced to be limited.
Hill and her family refuse to put too much stock into the love because college is too far away to get caught up in recruitment.
Still, Schneider boasts about how much potential Hill has. Her footwork, her skills in the block, her coordination, her attitude. Heck, Hill even has dribbled the ball up the court a few times, and the results weren't as bad as one might imagine.
Ashli "Magic" Hill, perhaps?
Let's not get too far ahead of ourselves. Ashli might not yet have the flash of Magic Johnson, and she certainly doesn't have the ego. When asked what it's like being a 6-4 player in a world of 5-foot-somethings, Hill chose to point out a negative.
"It can be hard," Hill said, "because I have to guard a lot shorter people who are quicker."
But it goes the other way, too. And that's why Hill has the makings of something special - and needs only a true nickname to enjoy the upcoming ride with her.
Copyright 2018 The Lawrence Journal-World. All rights reserved. This material may not be published, broadcast, rewritten or redistributed. We strive to uphold our values for every story published.