Fairfax, Va. — Don't know much about George Mason's basketball team? How about the school itself? Or the man for whom it was named?
The 11th-seeded Patriots' run to the round of 16 at the men's NCAA Tournament is helping answer those questions.
For coach Jim Larranaga, victories over sixth-seeded Michigan State and defending champion North Carolina, a No. 3 seed, bring professional satisfaction - not to mention a great recruiting tool.
But to Larranaga and others around this tree-lined campus in the Washington suburbs, they signify something larger.
"What it really means," Larranaga said Monday, sitting in his office at the on-campus Patriot Center, "is people will find out more about George Mason."
And then he proceeded to rattle off facts. Not about his so-called "mid-major" basketball program, mind you, but about the university itself, pointing out the law school's growing reputation, for example, and boasting that 2002 Nobel economics prize winner Vernon Smith is a Mason professor.
To Lamar Butler, a senior guard who led the Patriots (25-7) with 18 points against the Tar Heels, it means overdue recognition for a league (the Colonial Athletic Assn.) that hadn't earned two NCAA berths in 20 years.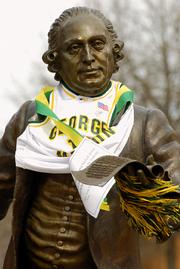 "People said they feel like they go to a real university now," Butler said after enjoying plenty of pats on the back and shouts of congratulations while walking to a radio-productions class Monday morning.
His path might have taken him past the bronze statue of George Mason himself, which someone adorned with a green, gold and white team jersey.
The statue's right hand sits atop a pile of books by thinkers Jean-Jacques Rousseau, John Locke and David Hume. The left, into which was tucked a green and gold pom-pom Monday, holds a copy of the Virginia Declaration of Rights, which Mason, a slave owner, wrote in 1776 and was the model for the Constitution's Bill of Rights.
"People shouting our names from the rooftops is great. Once people hear it shouted, what they find is an extraordinary institution," said dean of admissions Andrew Flagel, who pointed out the fortuitous timing of admissions letters being sent out this week to applicants. "This could have a very real and immediate impact on our enrollment."
To Flagel and athletic director Tom O'Connor, the basketball success means a chance to let all sorts of potential students hear more about a school that began as an offshoot of the University of Virginia in the 1950s, became its own university only in 1972 and has grown quickly into the largest public four-year school in the state, with about 30,000 students.
"The exposure is terrific. It's great brand identity for the school," O'Connor said.
In other words, it's a great way for what some might view as just another "George" school to make a name for itself. And Larranaga, Flagel and O'Connor all were quick to point out some of the misconceptions about their university.
"We're doing a lot for this school right now and for the area," Butler said. "A lot of people don't know where Mason is or where Fairfax is."
For the record, Mason's main campus (there are three other outposts, including one in the United Arab Emirates) is about six miles off the Beltway, the highway that loops around D.C. The Fairfax campus is 21 miles from the Verizon Center that will host Friday's Washington Regional semifinals - George Mason plays seventh-seeded Wichita State, a team it beat last month, while top-seeded Connecticut faces fifth-seeded Washington - and Sunday's game that will determine who goes to the Final Four.
"Outside of Fairfax, a lot of people might not know about Mason. They get us confused with George Washington or Georgetown," said senior guard Tony Skinn, who like Butler and the rest of the starting five is from neighboring Maryland.
"But you can't miss us now. We're one of 16 teams still playing."
Copyright 2018 The Associated Press. All rights reserved. This material may not be published, broadcast, rewritten or redistributed. We strive to uphold our values for every story published.