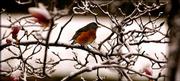 Put away your snow shovel. But keep your heavy coat handy.
"It looks like a chilly day in the forecast for our first full day of spring," said Jennifer Schack, 6News meteorologist.
Spring officially began at 12:26 p.m. Monday, but a heavy snow storm kept winter alive in western Kansas, where some areas got as much as 10 inches of snow. Lawrence got mostly drizzle, some sleet and only a light ground covering of snow from the storm.
"We've only had a trace or a dusting," Schack said. "Heavy snowfall stayed just to the north of us."
Schack said Washington and Republic counties in northeast Kansas got between 5 and 10 inches of snow.
Today's temperatures will be cold and blustery, with cloudy skies, winds clocking in at 12 to 18 mph and the temperatures climbing to only the 30s, Schack said.
At 9:10 a.m., skies were overcast at Lawrence Municipal Airport. The temperature at that time was 33 degrees, the humidity was 85 percent and winds were from the north at 14 mph, making the windchill 23 degrees.
The average low for this date is 37 degrees. The record low for this date is 10 degrees, set in 1913.
Today's high will reach 36 degrees, with mostly low gray skies and no sunshine, Schack said. The average high for this dates is 59 degrees and the record high was 90, set in 1916
Wednesday's morning low will be 18 degrees, Schack said. Wednesday's skies will be partly cloudy with the high climbing to 38 degrees, she said. Winds will be from the north at 7 to 15 mph, she said.
Thursday's morning low will be 24 degrees, with Thursday's high climbing to only 39 degrees, she said.
Copyright 2018 The Lawrence Journal-World. All rights reserved. This material may not be published, broadcast, rewritten or redistributed. We strive to uphold our values for every story published.