Surprise, Ariz. — Ambiorix Burgos is slated to fill in as the Kansas City Royals' closer while Mike MacDougal starts the season on the disabled list.
The 21-year-old Burgos, who has two major-league saves, is still getting used to the job.
After entering a tie game in the seventh inning, Burgos gave up a leadoff triple to Brian Anderson and threw a wild pitch that allowed the go-ahead run to score in a 6-5 loss to the Chicago White Sox on Monday.
"I like his stuff, but he's still learning how to pitch," Royals manager Buddy Bell said.
Bobby Jenks worked out of a bases-loaded jam in the eighth for Chicago, coaxing Wilson Valdez to ground into an inning-ending double play.
Anderson had a two-run single, and Tadahito Iguchi added an RBI double in a five-run second for the White Sox. All the runs came off Danny Tamayo, a right-hander from Notre Dame who was brought over from minor-league camp to pitch.
Tamayo retired only five of his 13 batters, yielding five hits and two walks.
Doug Mientkiewicz went 3-for-3 with a three-run homer off Brandon McCarthy and four RBIs for the Royals. Mientkiewicz also scored in the first on Angel Berroa's two-out single.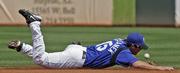 Hideo Nomo, who signed a minor-league contract with the White Sox, started and gave up two runs and three hits in two innings, striking out two.
Left-hander Jimmy Gobble, who is out of minor-league options and is trying to earn a spot in the Royals' bullpen, worked a perfect inning, striking out one, to lower his earned-run average to 2.57.
Right fielder Reggie Sanders was scratched from the Royals' lineup because of tightness in an elbow.
Copyright 2018 The Associated Press. All rights reserved. This material may not be published, broadcast, rewritten or redistributed. We strive to uphold our values for every story published.