Denver — Courtney Paris raised her hand to come out, then trotted past Oklahoma's bench and down a tunnel.
It was only a few minutes into the game, so she must have had an injury or an equipment problem, right? Nope.
Told to drink plenty of water to fight the affects of Denver's mile-high altitude, Paris apparently overdid it.
"Before the game, I started feeling like I was gagging," she said. "I had to throw up. I went to the back, got it taken care of, and when I came out it was gone."
Apparently, not even a bathroom break can slow Oklahoma's freshman sensation.
Paris had her way inside for 27 points and 11 rebounds in just 21 minutes, and the Sooners overcame a sluggish start to open the NCAA Tournament with 78-66 victory over Pepperdine on Saturday in the San Antonio Regional.
Paris finished 11-for-13 from the field, blocked four shots and passed Texas' Edwina Brown's Big 12 Conference single-season record of 722 points before heading to the bench midway through the second half with Oklahoma leading, 59-33.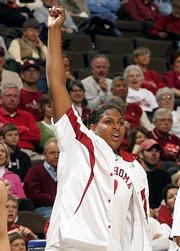 Britney Brown added 11 points and six assists, and Oklahoma (30-4) reached 30 victories for the second time in school history to move on to Monday's second round against Brigham Young.
"I think one of the things that make a player so special and so dominant is their ability to make everybody around them better," Oklahoma coach Sherri Coale said. "And, as you saw on several occasions today, Courtney did that."
It's no surprise considering what Paris has done so far in her first college season.
Using her size and a beyond-her-18-years understanding of the game to dominate like few freshman have before, Paris set 36 school records and ended the regular season three rebounds shy of becoming the first player in NCAA history to have 700 points, 500 rebounds and 100 blocks in a season.
Behind Paris, the Sooners made the first perfect run (16-0) through the Big 12 in the conference's 10-year history and tied a school record with a 17-game winning streak to end the regular season.
"I don't know how much you can say about Courtney that hasn't been said before," Pepperdine coach Julie Rousseau said. "I got a chance to recruit her at Stanford and see her dominate as a high school player. She's definitely carried that over to the college ranks."
LSU 72, Florida Atlantic 48
Nashville, Tenn. - Seimone Augustus, looking to cap her fabulous career with the national title that has eluded the Tigers in their last two trips to the Final Four, scored 22 points in 27 minutes as top-seeded LSU routed tournament newcomer Florida Atlantic (20-11). LSU (28-3) will play No. 9 seed Washington, a 73-69 winner over Minnesota, in the second round Monday night.
Washington 73, Minnesota 69
Nashville, Tenn. - Kristen O'Neill scored four points in the final minute, including a tiebreaking three-pointer with 56.6 seconds left, leading Washington to its first NCAA Tournament victory since 2001.
Andrea Plouffe led Washington (19-10) with 15 points, while O'Neill finished with 10. Breane Watson had 14 points and nine rebounds, and Cameo Hicks scored 10. Kelly Roysland scored a career-high 23 for Minnesota (19-10).
BYU 67, Iowa 62
Denver - Ambrosia Anderson scored 20, and BYU used its post play early to open up the perimeter as the Cougars won their first NCAA Tournament game in four years. The seventh-seeded Cougars (26-5) will play No. 2 seed Oklahoma on Monday in the second round.
Megan Skouby led Iowa (17-12) with 19 points, and Crystal Smith added 17.
DePaul 68, Liberty 43
Rosemont, Ill. - Khara Smith scored 18 points and grabbed 13 rebounds to lead the Blue Demons.
Doug Bruno's Blue Demons (26-6) now advance to a Monday game against Tulsa.
Florida State 80, Louisiana Tech 71
Denver - Holly Johnson scored 25, Alicia Gladden added 20, and Florida State used two big first-half runs to beat Louisiana Tech.
Stanford 72, Southeast Missouri State 45
Denver - Candice Wiggins picked apart Southeast Missouri State's defense for 21 points, and Stanford (24-7) dominated the lane at both ends. Southeast Missouri State (22-9) had never won a conference title before this season, making its first NCAA Tournament appearance this year.
Tulsa 71, N.C. State 61
Rosemont, Ill. - Megan Moody scored 20, and the Golden Hurricane converted seven free throws in the final minute to hold off N.C. State.
Back-to-back baskets by Moody made it 55-40 with 11:31 left, and the Golden Hurricane (26-5) withstood several pushes by the Wolfpack.
Copyright 2018 The Associated Press. All rights reserved. This material may not be published, broadcast, rewritten or redistributed. We strive to uphold our values for every story published.