¢ Doctors will remove the seven stitches over Kansas University sophomore Russell Robinson's right eye Monday, but that doesn't mean his bandage will disappear.
"The ladies like it. Everybody likes it, but we're just playing good when I have it on," Robinson quipped.
¢ NBA talk: Now on the national stage, KU freshman Brandon Rush was asked when he'd decide whether to return to KU another year or head to the NBA.
"I'll decide right after the tournament," he said.
He said his mom had told him she wanted him to return to KU.
"I'll listen to my mom and my brother," he said of NBA player Kareem, who played at Missouri three years.
Rush was asked what he thought about Iowa State's Curtis Stinson and Will Blalock declaring for the draft.
"I think it's kind of silly," he said. "They had a losing season. They've got one more year. Stinson is real good, one of the top scorers in the league, but you've got to win (first)."
KU coach Bill Self said: "I wasn't surprised. I was surprised it happened so quickly after the season. We wish them the best. I hope they both leave their options open to come back if not projected where they should be."
¢ Langford to sign 10 day?: Speaking to the Journal-World on Thursday at the Palace, Self was asked about reports ex-Jayhawk Keith Langford would be signing a 10-day contract with the Miami Heat.
Photo Gallery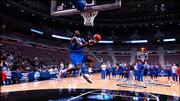 NCAA Tournament: KU-Bradley practice
Thursday, before KU's first round game against Bradley, each team had practice.
"That would be cool if he was called up. That really would be cool if Keith gets to play in the NBA soon," Self said.
¢ No chemistry woes: KU senior Jeff Hawkins thinks this team can advance, unlike last year's, which fell to Bucknell in Round One.
"When I think about this team, everybody wants to help each other. Last year we had a lot of distractions with chemistry and a couple of players on the team," Hawkins said, not naming the players.
It has been speculated Langford and J.R. Giddens did not mesh a year ago.
¢ Knee woes: Freshman center Matt Kleinmann was asked if he'd been simulating the play of 7-footer Patrick O'Bryant at practice.
"No, because my right knee has been bothering me," said Kleinmann, who was wearing a brace Thursday. Ex-Jayhawk Moualye Niang has been simulating O'Bryant at practice.
¢ Recruiting edge?: Self on playing in Motown: "It's special we are in the tournament and getting to play in a venue like this. From a recruiting standpoint, it'd be great to get into Detroit and make some inroads there and maybe open some eyes."
¢ No delay?: Self on possible security problems at arenas like San Diego, where a bomb threat cleared the building.
"It'd be very difficult for any team to deal with," he said of game delays. "Hopefully that's the end of those."
¢ Expectations: Self was asked if he was comfortable with the fact many will judge his coaching ability on how his team does in this year's NCAAs.
"I don't think it's whether or not I'm comfortable. I've been around long enough to know that will be the case," Self said. "At Tulsa, you get in the tournament, everybody is happy. At the last two stops I've made (KU and Illinois), you get into it, that's expected. You need to deliver once you are in, and at Kansas you will be judged on how you perform during the season, during the preseason, during the Big 12 tournament and the postseason. You are going to be evaluated day-to-day. If you don't like where you are, improve it tomorrow. If you like where you are, you better work your butt off to stay where it is. To be honest, it's not fair, but the reality of the way the game is when you coach at Kansas. We understood that when we came here."
¢ Go, Shockers: Self on former KU player Mark Turgeon's Wichita State team beating Seton Hall in Round One: "I think it's great for Wichita State. We want all the teams in our area to do well. Mark obviously had his team prepared."
Copyright 2018 The Lawrence Journal-World. All rights reserved. This material may not be published, broadcast, rewritten or redistributed. We strive to uphold our values for every story published.