AUBURN HILLS, MICH. — Danny Lewis is taking his store on the road.
His stock: as many KU golf shirts, KU spirit buttons, KU spirit beads, KU magnetic blinky light pins and - new this year - "Blinky Bling" glasses that Southwest Airlines will let Lewis and a fellow co-worker haul onto their flight today.
"We don't pack too much, being guys," said Lewis, coordinator of alumni programs for the Kansas University Alumni Association. "A couple pairs of socks and some underwear. We'll each pack up a couple of event bags. They'll just be full of stuff."
Once they arrive in Auburn Hills - site of Kansas University's NCAA Tournament opening game against Bradley University on Friday night - they'll find prime accommodations for their wares.
The association will set up its "mini store" alongside merchandise from KUStore.com, which is Kansas Athletics Inc.'s own official retailer. The two operations will be up and running from 10 a.m. to 4 p.m. Friday in the atrium at the Hilton Suites, the official team hotel and alumni association headquarters for the event.
Photo Gallery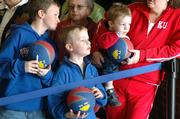 Jayhawks on the Road
During last weekend's Big 12 Conference Tournament, Lewis figures he sold about $2,000 worth of merchandise: $5 packs of four "Spirit Buttons," hundreds of sets of beads, the aforementioned golf shirts and other trinkets that prove increasingly popular as the postseason arrives.
But even Lewis couldn't foresee the run on the latest entry in Jayhawk apparel: "Blinky Bling."
The product is a set of blue-rimmed sunglasses, with lights that can illuminate for a "continuous glow or blink on and off for an eye-catching flash."
So says the description at the Alumni Association's online store site, which can be found at www.kualumni.org.
"You're sure to stand out in the crowd with these on," the site says.
Lewis took a couple hundred of the $10 glasses to Dallas for the conference tournament and quickly sold out. He's planning to bring more to Auburn Hills, as fans turn their focus toward college basketball's brightest stage: the NCAA Tournament and a run toward the Final Four.
"We bring them along because people always ask for them," he said.
KU fans congregating for the pep rally, game and other festivities won't be required to spend money to show their spirit. Alumni representatives are bringing 5,000 crimson-and-blue pompons, plus thousands of Jayhawk and "Kansas Basketball" stickers to be handed out free of charge at the Hilton Suites and other places where Jayhawks are congregating.
The official pep rally for Friday's game is set for 5:30 p.m. (4:30 p.m. Lawrence time) at the hotel.
Copyright 2018 The Lawrence Journal-World. All rights reserved. This material may not be published, broadcast, rewritten or redistributed. We strive to uphold our values for every story published.