Lawrence author Tom Mach has harbored a keen fascination with the Civil War since childhood.
Mach, who grew up in Chicago, remembers wearing a Union soldier cap in grammar school and poring over Civil War history books as soon as he could read. It wasn't long before his playground war games developed into a more serious interest.
"As I got older, I began to understand that it wasn't the war itself that intrigued me," Mach says. "It was all the various emotions that were stirred up in a war: love, hate and forgiveness."
Mach's latest book, "All Parts Together," is a novel that echos his lifelong interest in the Civil War: part history, part fictional account of the human experience during that turbulent era.
"All Parts Together" follows the fictional character Jessica Radford, a spirited 19-year-old Kansas abolitionist, as she fights to end slavery. The novel begins the day after Quantrill's raid, when pro-slavery ruffians massacred more than 150 Lawrence men and boys and set fires that destroyed one-quarter of the town. Jessica, who witnesses the massacre and its tragic aftermath, decides to travel to Washington, D.C., to convince Congress to end slavery. Once there, she meets President Lincoln, on whom she pins her hopes for abolition. Her hopes are crushed, however, when she witnesses Lincoln's assassination in the last chapter of the book.
Witness to tragedy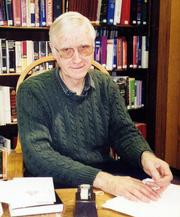 Though Jessica's fight to end slavery is the driving force in "All Parts Together," other characters emerge to thicken the plot. Jessica's adopted black sister, Nellie, was kidnapped, and Jessica fears she'll never see her again.
Lt. Matt Lightfoot, a pro-slavery, part-Cherokee, Methodist preacher, is another prominent character. He pursues Jessica's hand in marriage, but due to their different beliefs, the relationship seems doomed.
Lightfoot's former slave, Tinker, befriends Jessica but leaves her to join the ranks of Union soldiers to fight the Confederates for the freedom of other slaves.
"All Parts Together" is the second novel in a planned trilogy. It comes two years after Mach published his first novel, "Sissy!" In that book, Jessica's parents are killed by a Confederate. With nothing left to lose, she devotes her life to helping the Union in the war, going so far as to disguise herself as a Yankee soldier. "Sissy!" leaves off at Quantrill's raid, where "All Parts Together" begins.
In his next book, Mach says Jessica will experience the Great Chicago Fire. Though the heroine of his books witnesses some of the most tragic events of the Civil War, Mach says there is a "glimmer of hope" for her in the next book.
History as entertainment
Bob Spear, an independent book publisher and owner of The Book Barn in Leavenworth, edited "All Parts Together." He says Mach's novel allows readers truly to identify with history.
Related content
Author Tom Mach reads selections from "All Parts Together"
"He's good with historical detail. He's able to build that into the setting, basically creating a stage on which his characters can play," Spear says. "People really get a good idea of what it might have been like to live during this time."
Mach says he hopes his trilogy will be educational as well as entertaining.
"I wanted people to learn history but at the same time enjoy a good story," he says. "There's nothing like history becoming entertainment."
Though Mach grew up in Chicago and spent much of his adult life in California, he and his wife, Virginia, fell in love with Kansas during their hunt for a community in which to retire. They settled in Lawrence in 2002. Mach, who describes Lawrence as "kind of the perfect place," enjoys the city's culture and small-town friendliness, but it's no secret that his love of history played a big role in the move.
"Living in Lawrence, I'm right in the center of things. This is where it all began," he says.
'The human position'
Lawrence readers will undoubtedly recognize the multiple references to their town in "All Parts Together," including the destruction of Massachusetts Street, the questionable hanging of a man in South Park and the Baxter Springs massacre.
Book signing
For: "All Parts Together," by Lawrence author Tom Mach When: 1 p.m. Saturday Where: Hastings Books Music & Video, 1900 W. 23rd St.
While not many people today can sympathize with the Confederate point of view during the Civil War, "All Parts Together" attempts to present a balanced version of what happened. For example, during his account of Lincoln's assassination, Mach assumes the perspective of two very opposite characters: Jessica and Lincoln's assassin, John Wilkes Booth.
"I like writing about something from different perspectives because it gives you a different viewpoint of what happened," Mach says.
After studying the Civil War nearly all his life, gaining a fresh perspective on such a familiar subject isn't easy. But it's something Mach strives to offer readers.
"Anybody reading this book cannot possibly say I took the Northern position or the Southern position. I've taken the human position," he says. "That's what I hope people will come across with when they read it."
Copyright 2018 The Lawrence Journal-World. All rights reserved. This material may not be published, broadcast, rewritten or redistributed. We strive to uphold our values for every story published.