SCOTTSDALE, ARIZ. — The San Francisco Giants will celebrate appropriately if Barry Bonds passes Babe Ruth on the career home run list.
Team owner Peter Magowan and executive vice president Larry Baer vowed Tuesday to honor the organization's star player while also reiterating their commitment to cooperate with the commissioner's office on any investigation into Bonds' alleged steroids use.
Magowan and Baer arrived in Arizona one week after the release of excerpts from an upcoming book revealing Bonds' purported longtime schedule for taking performance-enhancing drugs.
"I recognize this is a serious matter," Magowan said, standing in the dugout before the Giants hosted the Texas Rangers. "It is still a legal proceeding, that's all I can say. ... I can't comment on any of this. It's the position we've taken for two years now."
The Giants brass is brainstorming exactly what to do if Bonds ties Ruth for second place on career list with 714 homers, and then how to honor him if he passes the Babe. Bonds begins the season with 708 home runs, and he connected for his second spring training homer Tuesday against 20-year-old Texas lefty John Danks.
"It's certainly not going to go unnoticed or uncommemorated," Baer said. "He's our player, and it would be a tremendous accomplishment. We don't have a hold on what we're going to do. It won't be silence."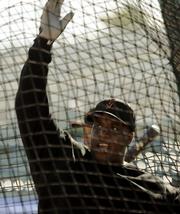 This has been a spring of further off-field distractions for Bonds, who was in the lineup as the designated hitter against the Rangers. Bonds played left field for the first time Sunday against San Diego and homered for the first time in only his fourth spring training at-bat.
On Tuesday, he lined a single to the gap in left-center in the first, then led off the fourth by sending a 1-2 pitch from Danks over the wall in right and into the batting cage area.
"Game of Shadows," written by two San Francisco Chronicle reporters, is due out later this month, while another book on Bonds - "Love Me, Hate Me: Barry Bonds and the Making of an Antihero" - written by Jeff Pearlman is set for release in late May.
The book details an alleged conversation between Bonds, Ken Griffey Jr. and others in the summer of 1998 in which Bonds, according to multiple unidentified sources, hinted he would begin using performance-enhancing drugs.
"You know what," Perlman quoted the sources as saying, recalling Bonds' words, "I had a helluva season last year, and nobody gave a crap. Nobody. As much as I've complained about (Mark) McGwire and (Jose) Canseco and all of the bull with steroids, I'm tired of fighting it. I turn 35 this year. I've got three or four good seasons left, and I wanna get paid. I'm just gonna start using some hard-core stuff, and hopefully it won't hurt my body. Then I'll get out of the game and be done with it."
When asked after the Giants' 3-2 win over Texas on Tuesday about the new book, Bonds said: "Why do we have to go over this every time? Can we just talk baseball, please, please, please?"
Copyright 2018 The Associated Press. All rights reserved. This material may not be published, broadcast, rewritten or redistributed. We strive to uphold our values for every story published.