Lawrence residents won't receive federal aid to help pay for recovery from Sunday's severe wind storm, a state official said Tuesday.
"There's not going to be any federal money available," said Joy Moser, a spokeswoman for the Kansas Division of Emergency Management.
To receive federal aid, she said, a community must have 25 or more damaged homes, each sustaining at least 40 percent uninsured damage.
A damage assessment team from the state agency, she said, found just 12 homes in the city that sustained that much damage.
The assessment showed:
¢ Three houses destroyed.
¢ One house that was 80 to 90 percent damaged.
¢ Eight houses that suffered at least 70 percent damage.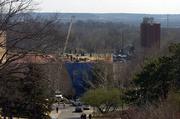 The next most-damaged home, she said, suffered less than 40 percent damage.
Had Douglas County qualified for disaster aid, property owners would have had access to a variety of programs, including rental assistance for displaced homeowners, cash grants of up to $26,200 per household and tax credits.
The state government does not provide disaster grants.
"We're lucky no one died," Moser said. "It's unfortunate for those people (that no aid is coming), but it didn't meet the threshold."
Local officials were still submitting their damage estimates to state and local agencies.
All power restored
Westar Energy reported at midmorning Tuesday that electricity was back on for all Lawrence customers who are able to receive power. Gina Penzig, a Westar spokeswoman, said several homes still required work by electricians before power could be restored to them, but other service had been restored throughout the city. Westar asks customers still without power, and who are not already working with Westar, to call 1-800-LIGHTKS to alert Westar that they are still without electricity. Also, the city of Lawrence is asking people to report street signs that are down to the Public Works department at 832-3123.
Paula Phillips, director of Douglas County Emergency Management, said Tuesday that initial surveys showed property losses and local government expenses of between $4 million and $7 million from the storm, with the potential to rise as high as $8 million. That figure includes damages at Kansas University. KU officials have said the campus suffered $6 million in damages and costs related to the storm.
State officials said they would see that the state covers the costs of repairs at KU.
"We will be working with the University of Kansas on damage assessment," Gov. Kathleen Sebelius said.
Sebelius said KU buildings are self-insured, which means repairs will have to come from state funds.
She said the state would obtain an assessment of the cost to repair the buildings, and then she would submit a budget amendment for those costs to the Legislature.
If the final repair figures can't be reached before the Legislature adjourns in April, Sebelius said she would call a meeting of the State Finance Council, which is led by her and includes legislative leaders, to make the necessary appropriations.
"We'll certainly have a discussion on it and see what we need to do," said House Appropriations Committee Chairman Melvin Neufeld, R-Ingalls.
Neufeld said KU currently had about $4.5 million in its repair and rehabilitation budget.
"We'll have to see what they really need and make adjustments accordingly," he said.
Copyright 2018 The Lawrence Journal-World. All rights reserved. This material may not be published, broadcast, rewritten or redistributed. We strive to uphold our values for every story published.