The elementary state chess trophy returned to Quail Run School on Saturday after a one-year absence. Sixth-grader Alan Shi also won eight matches and the individual state championship.
The school's history with the Kansas State Invitational Chess Championships compares to John Wooden's UCLA basketball teams in the 1960s and 1970s. Quail Run's team has dominated and won state titles in 1996, 1998 through 2004 and now 2006, including a co-national championship in 2001.
The team started Saturday's competition at the Kansas Union ballroom ahead of Lakewood School of Overland Park after a few rounds, but their early success gave them tougher opponents in the later rounds of the six-match round robin-style tournament.
"The higher ratings were tougher, so you had to play your best against other people," said second-grader Cole Reems, who placed 22nd.
Quail Run and Lakewood tied at the end of six rounds, but the Lawrence team won on a tiebreaker.
In the individual championship, Shi tied with Tiffany Wu of Lakewood. Shi defeated her in a "blitz-off," which is two games of speed chess.
Fifth-grader Garrick Clapp, who finished seventh, said the team members knew Shi would win his tiebreaker. He also said they were glad to regain a state title for the school after taking second place in 2005.
Quail Run's volunteer coach, Steve Robinson, attributed the team's success to the support from parents and sponsors, including Quail Run counselor Harold Nelson. He said they have older and younger strong players as part of their "master class program."
"We really set out to rebuild our program this year," Robinson said.
Some of Quail Run's players will compete in a national tournament May 12-15 in Denver. About 570 students, kindergarten through high school, competed in Saturday's tournament.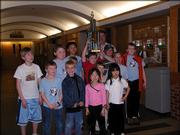 Lawrence medalists
Quail Run and Southwest Junior High schools won the team titles in the Kansas State Invitational Chess Championships on Saturday at the Kansas Union. Other teams placing were: Free State High School, third in 6A; South Junior High, third in the Junior High Division; Wellsville High School, fifth in 3A.
Individual medalists
Elementary: Alan Shi, first, Quail Run; Garrick Clapp, seventh, Quail Run; Cal Young, 17th, Wakarusa Valley; Luke Lesslie, 20th, Quail Run; Cole Reams, 22nd, Quail Run; Caleb Borovik, 36th, Quail Run; Robert Newman, 38th, Wakarusa Valley; Andrei Elliott, 41st, Quail Run; Samuel Stephens, 48th, Cordley.
Elementary (K-3): Samarth Chakrasali, fourth, Sunflower; Jake Burdett, sixth, Cordley; Ting-Ting Shi, seventh, Quail Run; Apramay Mishra, 14th, Sunflower; Makayla Wagner, 22nd, Wakarusa Valley; McCarthy Fitch, 27th, Cordley; Roscoe Bradt, 33rd, Cordley.
Junior high: Roy Wedge, seventh, CentralJunior High School; Nathaniel McFadden, 13th, South; Jason Chang, 15th, Southwest; Douglas Rawlings, 24th, South; Jessica Newman, 31st, South; Jake Mather, 45th, Southwest.
High school: Thomas Reams, fifth, Southwest Junior High; Sean Stenseng, eighth, Free State; Thomas Clark, 10th, Southwest; Benjamin Greenberg, 12th, Free State; Peter Lesslie, 19th, Southwest; Keely Stenseng, 26th, Southwest; Jimmy Huggins, 28th, Wellsville; Bryce Baringer, 34th, Free State; Kellen Cross, 40th, Southwest.
Copyright 2017 The Lawrence Journal-World. All rights reserved. This material may not be published, broadcast, rewritten or redistributed. We strive to uphold our values for every story published.