No doubt students are catching a bug called spring fever. With spring break less than one week away, they're probably daydreaming about their vacation plans and having a hard time focusing on studies.
Sarah Kelly, a senior at Lawrence High School, will be spending her break in Rome with other Latin students as part of a school tour. And Lindsey Kennedy, LHS senior, plans to soak up some sun on South Padre Island.
So what if you don't have plans to leave the Lawrence area? Catching up on favorite television shows, movies and sleep are probably on the to-do list. Several Lawrence organizations and centers are providing activities to add to that list. They range from arts and crafts to seeing a magic show to volunteering in the community. Here's a rundown of the offerings:
Lawrence Public Library
The library, 707 Vt., has free activities for children and teens throughout the week.
¢ Monday: A self-defense program kick starts the week. Cody Pepper, ATA Blackbelt and Leadership Academy's chief instructor, will present "Safety and Awareness" for children, ages 4 to 6, from 10:30 a.m. to 11 a.m. He then will talk about "Life Skills In Motion" for children ages 7-12 from 1 p.m. to 1:45 p.m. Joyce Steiner, youth services coordinator, said Pepper would help teach self-defense, help build self-esteem and keep participants moving. For teens, a program "Explore Extreme Martial Arts" will be presented at 2:30 p.m. All of the programs will be in the auditorium.
¢ Tuesday: Want to be an actor? "Explore Drama with Stories I" gives children ages 6-12 a chance to act out a story. Dana Hart and Jane Johnston, children's library assistants, will help with the activity, which will be from 2:30 p.m. to 3:30 p.m. in the children's room. If you can't make it to the Tuesday program, it also will be offered from 2:30 to 3:30 p.m. Friday. For teens, it's Graffiti Hats day. The library will supply paints, pens and canvas hats to decorate. Students also can bring in an old hat that might need some sprucing up.
¢ Wednesday: The children's room will transform into an art studio for "Explore Art," which will be from 1 p.m. to 3 p.m. The library will provide boxes to decorate. Steiner said children could turn the boxes into items such as a treasure box or mini puppet theater. For movie buffs, "Harry Potter and the Goblet of Fire" and "Howl's Moving Castle" will be showing in the auditorium. The shows start at 1:30 p.m., and pizza and snacks will be provided.
¢ Thursday: Keith Leff, of Shawnee, will put on a magic show from 9:30 a.m. to 10:15 a.m. and from 11 a.m. to 11:45 a.m. in the auditorium. Steiner said Leff performs for schools and libraries. She said he liked to include "his own little messages" throughout his show. Then from 3:30 p.m. to 5 p.m., the auditorium will become a game extravaganza. Youths can challenge each other to popular board games such as chess, checkers and Uno. The stakes? Candy. If you like video games, an Xbox will be hooked up to a projector screen. Students can compete in race car games and "Dance Dance Revolution."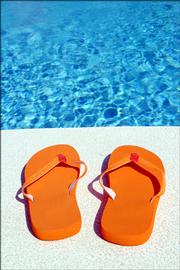 Lawrence Parks and Recreation
Spring Break Activities Camp, which includes crafts, games and field trips, will be from 8:30 a.m. to 3 p.m. Monday through Friday. The activities will take place at Holcom Park and East Lawrence recreation centers. The camp is offered for children ages 5-12 and the cost is $55, but scholarships are available.
Some of the activities include: a visit to Papa Murphy's pizza to learn about the business and eat some pizza; a nutrition program by K-State Research and Extension; a visit to Prairie Park Nature Center; swimming at the Indoor Aquatic Center; visiting Science City at Union Station in Kansas City, Mo.; watching movies; scavenger hunt; and crafts.
Prairie Park Nature Center's Hogwarts Camp is ideal for outdoor enthusiasts. The camp for children ages 7-12 will be from 9 a.m. to 3 p.m. Monday through Friday. With a theme based on the Harry Potter book series, the camp will teach participants how to care for creatures and grow magical things. Participants will go on outdoor adventures. The cost is $65.
For more information on the camps, call Duane Peterson, special events supervisor, at 832-7940. To enroll in the camp online, visit www.lprd.org or visit a Lawrence Parks and Recreation facility. The deadline to apply for scholarships is Friday.
History lesson
The Strategic Education Center, 1245 N.H., is offering "Homestead Happenings" for students in grades first through sixth from 1 p.m. to 5 p.m. Monday through Thursday.
"Participants will learn about what it was like to live in Kansas during the late 1800s," said Rose Foster, executive director of the center.
Among the activities: folk tales, corn shelling, butter making, music and map making. The cost is $40 and scholarships are available. For more information or to sign up, call the center, which is based in the basement of Trinity Lutheran Church, at 331-3236.
Lawrence Memorial Hospital
"Safe Sitter Enhanced" teaches youths ages 11-13 the skills to become safe and competent babysitters. The program will include how to recognize an emergency, rescue breathing, first aid, safety precautions and tips on basic child care. The program is from 9 a.m. to 3:30 p.m. Monday and Tuesday and costs $50. For more information or to enroll, call Connect Care at 749-5800 or click on www.lmh.org.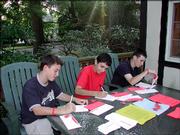 Roger Hill Volunteer Center
"Volunteering during spring break gives teens and young people a great opportunity to become familiar with community organizations and help others," said Margaret Perkins-McGuinness, of the Roger Hill Volunteer Center. "The level of compassion and knowledge that can be gained while volunteering is incredible."
Volunteer opportunities during the week include:
¢ The Lawrence Public Library seeks youth volunteers to assist with a special book cleaning project on Monday and Tuesday and to help with children's programming on Tuesday, Wednesday and Friday afternoons. For more information or to sign up, call Maria Butler at 843-3833.
¢ Watkins Community Museum of History seeks volunteers, ages 13 and older, to help clean woodwork, cut articles from newspapers and help catalogue. To volunteer, call Rebecca Phipps at 841-4109.
¢ Pioneer Ridge Retirement Community seeks youths to work and play with senior citizens. Activities include: playing cards, helping with cooking or painting class, calling Bingo, giving manicures or sharing a talent. To sign up, call Angelina Sterrett at 749-2000.
¢ Ballard Community Center seeks youths to assist with food pantry and commodity distribution from 9 a.m. to 11 a.m. Thursday. It also seeks youths, at least 16 years old, who would like to work with children ages 1-5 in the Early Education Program. For more information or to volunteer, call the center at 842-0729.
¢ Stepping Stones early childhood program seeks youths, ages 16 and older, to assist teachers and work with children. To register, call Shelley Platz at 843-5919.
If these opportunities don't fit into your interests, contact the center at 865-5030 for a referral service.
"In addition to making a positive difference in the community, young people who volunteer gain the benefit of learning new skills, experiencing different environments and meeting new people, which can be very beneficial as they look for jobs and make decisions about careers and education in the future," Perkins-McGuinness said.
Become a pen pal
Anne Gold, co-founder of Manhattanville College's My Soldier program, encourages students to write a letter to a deployed soldier.
"Letters provide a real morale boost for soldiers," Gold said. "In return, kids get a chance to learn about a foreign country and its culture."
The goal of the program is to show support for troops serving in hardship areas by establishing pen-pal relationships with them.
To participate, sign up at www.mysoldier.com. Within one week of registering, participants should receive an e-mail with the name and address of a soldier. Then the participant will receive a "starter kit" with guidelines on letter writing. Typically, the soldier replies to the letter and direct correspondence begins.
Since the program was launched on Veteran's Day 2004, more than 250,000 people have signed up.
Gold and her dad adopted a soldier through the program, she said.
"We have developed a close bond with the soldier," Gold said. "He now calls once a week, and we have plans to meet him this summer in Baltimore."
In addition to brightening a soldier's day, the program can help youths develop their letter writing skills. For more information, contact Gold at (914) 323-5288.
Copyright 2018 The Lawrence Journal-World. All rights reserved. This material may not be published, broadcast, rewritten or redistributed. We strive to uphold our values for every story published.