Dallas — Not all zone-busters roam outside the three-point semicircle waiting for the ball to be swung back around to them for open shots.
Some guys bust the zone by standing at the high post and whip bullet passes inside.
Kansas University freshman Julian Wright never has busted a zone quite so well and in quite such entertaining fashion as he did Sunday in the early going of an 80-68 victory over Texas in the title game of the Big 12 Conference tournament.
All four of Wright's assists came in a turnover-free first half. Three of them resulted in Sasha Kaun dunks, the other a layup by Russell Robinson.
KU's ball movement was exceptional against the Texas 2-3 zone, and Wright deserves much of the credit. Usually, players at the high post catch the ball and then pass it. To the naked eye, it looked as if Wright was merely re-directing the ball in midair without catching it.
He did so on consecutive possessions in the opening four minutes of the game, feeding Kaun for dunks.
Photo Gallery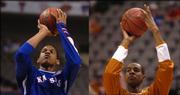 Big 12 Tourney: KU vs. UT
"I'm a pretty good passer from the high post, and I'm able to draw a lot of defenders toward me, and Sasha's real good at sealing his man," Wright said of the chemistry between him and the team's starting center.
Wright went from a first-half facilitator to a late-game finisher. He helped KU pull away from the Longhorns with a pair of late steals and dunks.
"I tried to get the team's energy going and to get a spark for myself," Wright said. "Usually, we get too amped up and make a mistake after a good play. Now, we're taking advantage of it, and capitalizing on it with easy baskets."
Wright finished with 12 points, seven rebounds and three steals in 32 minutes.
Copyright 2018 The Lawrence Journal-World. All rights reserved. This material may not be published, broadcast, rewritten or redistributed. We strive to uphold our values for every story published.