Clemson, S.C. — Kansas University's baseball squad couldn't hold on thanks to two Don Czyz wild pitches, allowing No. 2-ranked Clemson to score two eighth-inning runs and prevail, 4-3, in the rubber match of a three-game series Sunday.
Senior Kodiak Quick started for the Jayhawks (15-6) and had a so-so outing, allowing 11 hits in seven innings but giving up just two runs.
Andy Marks (1-1) relieved in the eighth and got no outs, then Ryotaro Hayakawa entered but got just one out as Clemson (10-3) loaded the bases. Senior Czyz relieved and threw two wild pitches, allowing two Tiger runs.
KU tried to rally in the ninth, scoring once when Jared Schweitzer doubled, Gus Milner walked and John Allman grounded out to drive in Schweitzer. Erik Morrison struck out, though, ending the game.
Morrison hardly was the goat. His two-run home run in the fifth inning gave the Jayhawks a 2-0 lead.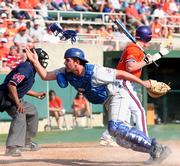 KU center fielder Kyle Murphy took away a Clemson run in the bottom of the first by throwing out a potential run at the plate. Junior catcher Dylan Parzyk applied a sweeping tag on Herman Demmink - who led off the inning with a single.
Clemson starter Stephen Faris struck out 10 in seven innings. Daniel Moskos (1-1) picked up the victory, and Steven Richard earned his third save.
The Jayhawks open their Big 12 Conference schedule this weekend in Waco, Texas, in a three-game series against Baylor. Friday's game is set for 7 p.m.
Notes: Kansas is 3-4 this season against top-10 teams and 12-15 against top-10 foes under coach Ritch Price ... KU now is 2-2 all-time against Clemson.
Copyright 2018 The Lawrence Journal-World. All rights reserved. This material may not be published, broadcast, rewritten or redistributed. We strive to uphold our values for every story published.