Tornado sirens intended to warn residents of coming storms sounded several minutes after severe weather hit the area Sunday morning.
"It was five minutes before a siren ever went off," Lawrence resident Debra Myers said after the weather subsided Sunday.
Myers and her family spotted a black funnel cloud spinning near their house at 24th and Scottsdale streets around 8 a.m. Sunday, but she said that her neighbors didn't have the warning they would have needed if a tornado would have struck head-on.
Dozens of other residents reported the same experience.
Douglas County officials said that they knew about the possibility of strong storms as early as Saturday afternoon, and by 7:30 a.m. Sunday had gathered officials in the county's Emergency Operations Center to prepare.
Photo Gallery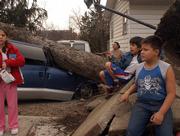 Storm damage
There, they collected information from the National Weather Service and a handful of storm spotters working throughout the county. Information began streaming in just after 7:30 a.m., Assistant Emergency Management Director Teri Smith said.
"That's how we make that determination," Smith said about the process.
But the county's 33 sirens didn't go off until 8:08 a.m., Smith said.
By then, police and medical dispatchers had already begun answering 911 calls reporting storm damage. Dispatchers said the first call came in at 8 a.m.
6News meteorologist Jennifer Schack said that the storm had no history of tornadic activity for which sirens would be used to warn of the approaching danger.
"You couldn't predict that the microburst was going to happen," Schack said.
Photo Gallery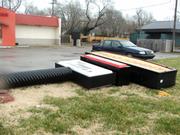 Reader photos: Storm damage
The sirens, Smith said, are not intended to be the area's primary source of storm information, and are only intended for people who are outdoors at the time the sirens go off.
Smith said that people should have been listening to their weather radios or watching the news when the storm hit.
"Everyone has personal accountability," she said.
Smith said that she would not have done anything differently in warning people about the storm.
Copyright 2018 The Lawrence Journal-World. All rights reserved. This material may not be published, broadcast, rewritten or redistributed. We strive to uphold our values for every story published.