Greensboro, N.C. — Mike Krzyzewski sat at the podium with four of his seniors, basking in the glow of another Atlantic Coast Conference tournament championship.
This was Duke's seventh title in eight years and 16th overall, breaking a tie with North Carolina for the most in the 52-year history of the event. J.J. Redick, Shelden Williams, Sean Dockery and Lee Melchionni were part of the past three.
"I'd like to do that time machine thing and do it all over again with this group, because they've been terrific," Krzyzyewski said with an eye toward his players.
For the rest of the ACC, it must feel as if he already did.
Redick had consecutive three-pointers down the stretch to give Duke the lead for good, Williams and freshman Greg Paulus added clutch free throws in the final seconds, and the third-ranked Blue Devils held off No. 11 Boston College, 78-76, Sunday in the championship game.
Louis Hinnant's heave from about 50 feet right before the buzzer bounced off the backboard, denying the Eagles the title in their inaugural ACC tournament.
"I think there's questions about our team, and there's questions about me," said Redick, who struggled with his shooting during Duke's two-game losing streak to end the regular season. "We had lost a couple of games in a row, but we used last week to get refreshed. For our team, I think we answered any doubts this weekend."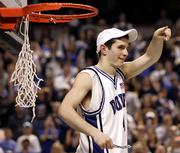 This is familiar territory for the Blue Devils (30-3). They are 25-2 in this event since 1998, and they are 30-15 in the ACC tournament in the Greensboro Coliseum.
This one was far from easy, and not simply because Duke came in with that losing streak. BC knocked off North Carolina in the semifinals and rallied from a 10-point deficit in the second half against the Blue Devils.
"We played hard," BC forward Craig Smith said. "I think we showed a lot of toughness, and I would like to think we showed America that, 'Hey, don't count us out.'"
Redick scored 26, while Williams added 18 for Duke. Hinnant led the Eagles (26-7) with 20 points.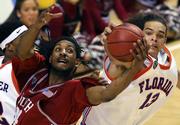 Big Ten
No. 20 Iowa 67, No. 7 Ohio State 60
Indianapolis - Jeff Horner scored 14 of his 16 points in the second half and added 10 assists, leading Iowa in the Big Ten tournament championship game.
Adam Haluska added 15 points and eight rebounds for the Hawkeyes (25-8), who won their first conference tournament since 2001.
Jamar Butler had 19 points, and J.J. Sullinger added 15 for the top-seeded Buckeyes (25-5), who fell short in their quest to win both the regular-season and tournament titles.
SEC
No. 16 Florida 49, South Carolina 47
Nashville, Tenn. - Joakim Noah scored with 11 seconds left, then blocked a shot at the other end, and Florida won a second straight Southeastern Conference tournament championship.
Florida (27-6) led the entire way, but never put away South Carolina (18-15), already the lowest seed ever to play in this championship game.
South Carolina guard Rocky Trice tied the game for the only time at 47 with 42 seconds left. Corey Brewer missed a short jumper, but Noah followed up with the winning basket.
Copyright 2018 The Associated Press. All rights reserved. This material may not be published, broadcast, rewritten or redistributed. We strive to uphold our values for every story published.