The two 60-foot-tall silos that helped Lawrence area gardeners and asparagus lovers find Pendleton's Country Market, 1446 E. 1850 Road, are gone.
"The skyline is different now," said John Pendleton, whose family planted its first half-acre of you-pick asparagus in 1980.
The distinctive silos were destroyed Sunday morning by what appeared to be tornadic winds.
One of the property's two barns was flattened. The other one lost its roof.
The smaller greenhouses are gone.
"The windows were blown out on the tractor and on the pickup trucks," said Jeff Jenicke, a family friend who helped clean up debris. "A grain bin was picked up and thrown about a half-mile to the northeast."
Photo Gallery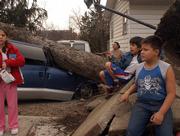 Storm damage
Pendleton said he was in the now-roofless barn when the winds hit.
"When you're in the middle of it, it's hard to know what's going on," he said. "But I could hear things hitting the shed - there was a tremendous amount of wind.
"I was trying to figure out where the strongest part of the building was," Pendleton said. "There's a steel desk in there, so I dove under it. But (the storm) didn't last long."
About a dozen friends and family members showed up to help sort through debris.
"There's a heck of a lot to clean up," Pendleton said. "But we've got a lot of friends helping us out. We'll be open April 1; the first asparagus picking will be April 15."
He added, "The asparagus is OK; it's underground."
Copyright 2018 The Lawrence Journal-World. All rights reserved. This material may not be published, broadcast, rewritten or redistributed. We strive to uphold our values for every story published.