Anaheim, Calif. — Even the Americans figured they caught a break.
Alex Rodriguez hit a bases-loaded, two-out single in the ninth inning, giving the United States a 4-3 victory over Japan on Sunday in the opener of Round 2 in the inaugural World Baseball Classic after the losers appeared to be deprived of the go-ahead run.
It looked as though Japan broke a 3-3 tie against Joe Nathan in the eighth when Akinori Iwamura flied to left with one out and the bases loaded. Tsuyoshi Nishioka beat Randy Winn's throw home, and second-base umpire Brian Knight ruled safe when Team USA appealed the play. But plate umpire Bob Davidson overruled the call following a brief discussion with the other umpires.
"The wrong umpire made the initial call," Davidson said in a statement issued afterward. "That's the plate umpire's call. I had it lined up. It's my call, and I had him leaving early and called him out."
Davidson is one of 22 major-league umpires who lost their jobs in the 1999 labor dispute. He's now a minor-league ump who fills in at the big-league level.
"It gave us a huge lift. I mean, it changes the game," said Team USA first baseman Derrek Lee, who hit a two-run homer in the sixth to tie the game. "You don't see a call like that overturned very often, so we definitely got a gift right there."
It didn't appear Nishioka left before Winn made the catch on the television replay, and Japan manager Sadaharu Oh argued to no avail.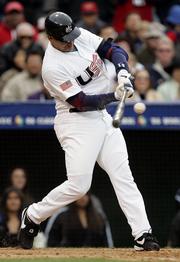 "It's just unimaginable that this could have happened, or this did happen, in the U.S. where baseball is very famous and popular," Oh said through a translator. "And it's a pity that it was overruled."
Team USA manager Buck Martinez said he didn't know if he ever had a call like that reversed.
"I know I've appealed a play once in Fenway on a very similar type of play, once in Seattle," he said. "That was a good feeling today to have that one go in our favor. I had a really good look at it. Everybody on the bench reacted the same way, which validates what I thought was happening."
Japan loaded the bases in the top of the ninth on three walks before winner Brad Lidge, Team USA's sixth pitcher, struck out Hiyoshi Tamura to end the inning.
Vernon Wells opened the bottom half with his third hit, and Winn sacrificed, but reached first when second baseman Nishioka drew an error for coming off the base while catching third baseman Akinori Iwamura's throw.
Loser Kyuji Fujikawa threw out Wells at third on Michael Young's attempted sacrifice, and Derek Jeter was hit by a pitch to load the bases.
Ken Griffey struck out before Rodriguez appeared to be jammed on a 1-1 pitch, but his grounder got past Fujikawa, and Nishioka's sliding attempt behind second was unsuccessful as Winn scored from third.
The run was unearned because of Nishioka's error. Rodriguez went 2-for-5, making him 7-of-14 in the Classic.
"It was the first opportunity of this sort that I had, and that was definitely good," he said. "I definitely felt very proud."
Copyright 2018 The Associated Press. All rights reserved. This material may not be published, broadcast, rewritten or redistributed. We strive to uphold our values for every story published.