Miami — Alonzo Mourning sparked a fourth-quarter surge while Shaquille O'Neal watched from the bench, and the Miami Heat earned their latest come-from-behind victory Sunday by beating the Cleveland Cavaliers, 98-92.
LeBron James scored 47 for Cleveland, and Dwyane Wade had 35 for the Heat, but it was Mourning who took charge during the decisive stretch. The Heat backup center finished with 16 points and eight rebounds in 23 minutes.
The Heat bounced back from a home loss Friday to Golden State and have won 11 of their past 12 games.
O'Neal played only 21â2 minutes in the fourth quarter.
Spurs 88, Rockets 81
San Antonio - Tim Duncan scored 20, Michael Finley made a pair of three-pointers in the fourth quarter, and San Antonio held off a late rally.
SuperSonics 120, Lakers 113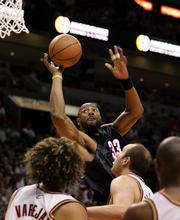 Los Angeles - Rashard Lewis scored 26, and Ray Allen had 19 to pass the 15,000-point mark for his career for Seattle.
Kobe Bryant scored 22 on 8-of-29 shooting for Los Angeles.
76ers 94, Grizzlies 91
Memphis, Tenn. - Chris Webber picked up the slack for an injured Allen Iverson, scoring 31, grabbing 10 rebounds and adding nine assists to lead Philadelphia.
Pistons 94, Bobcats 78
Auburn Hills, Mich. - Richard Hamilton scored 24, and Tayshaun Price added 23 as Detroit improved to 28-2 at home.
Raptors 93, Pacers 89
Toronto - Mike James made a go-ahead jumper with 8.2 seconds left, and Toronto ended a three-game losing streak. Morris Peterson scored 25, Chris Bosh had 24, and James added 21 for the Raptors, who had lost nine of their previous 10.
Celtics 106, Nuggets 101
Boston - Paul Pierce scored 36, Wally Szczerbiak added 18, and Boston snapped Denver's four-game winning streak.
Pierce, who has scored at least 30 points in 14 of 16 games, shot 15-of-23 to lead five Celtics in double figures. He also had four assists and three steals.
Nets 95, Hornets 84
Oklahoma City - Vince Carter scored 27, and New Jersey held off a furious fourth-quarter rally to hand New Orleans its season-worst sixth straight loss.
Kings 85, Mavericks 80
Sacramento, Calif. - Brad Miller had 17 points and 10 rebounds, Kenny Thomas scored six points in the final minute, and Sacramento hung on for its 12th straight home victory.
Trail Blazers 111, Suns 101
Portland, Ore. - Zach Randolph had 32 points and 14 rebounds, and Portland snapped a four-game losing streak.
Copyright 2018 The Associated Press. All rights reserved. This material may not be published, broadcast, rewritten or redistributed. We strive to uphold our values for every story published.