Dallas — Big 12 Conference Player of the Year P.J. Tucker won the award as much for his toughness as anything, so he knows toughness when he sees it.
"I think that we still, you know, are a good team, but we just, that last five minutes, we didn't tough it out as we should have," Tucker said.
And KU did, which was the difference in the Jayhawks' 80-68 victory in Sunday's Big 12 tournament title game in American Airlines Center.
KU closed the game with a 17-5 run and limited LaMarcus Aldridge - the possible No. 1 overall pick in the NBA draft - to four points and five rebounds. He did not block a shot. In Austin, Aldridge totaled 18 points, eight rebounds and four blocked shots.
This time, foul trouble limited Aldridge to 28 minutes.
"LaMarcus didn't have the game he had in Austin," Texas coach Rick Barnes said. "That was obviously the difference, with him having to be on the bench there."
Photo Gallery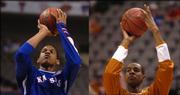 Big 12 Tourney: KU vs. UT
Barnes also pointed to a difference-maker for the Jayhawks.
"The two steals that Julian Wright made, you can say what you want to say, but those were two good plays," Barnes said.
Tucker and fellow forward Brad Buckman couldn't pinpoint why the Longhorns didn't play their best basketball in the conference tourney.
"They played pretty good defense," Tucker said. "But I think it was more of us just bogging down on offense and not doing all of what we were supposed to have done."
Said Buckman: "I don't think that we displayed being the same team that we usually are. They came out, played really hard, and you've got to give them credit. They didn't give up at any point in the game. We definitely just let down. We weren't the team that we usually are today."
The crowd of 17,458 was split pretty equally between backers of KU and Texas, though at the end of the game it sounded as if Kansas had a much larger following.
"Obviously, they had a lot of fans," Buckman said. "We had a pretty good amount of fans. That's how the environment is going to be from here on out. We have got to get used to it."
Copyright 2018 The Lawrence Journal-World. All rights reserved. This material may not be published, broadcast, rewritten or redistributed. We strive to uphold our values for every story published.