Jeff Hawkins wore an American Airlines Center net around his neck during his postgame interview session with reporters in a giddy winner's locker room Sunday afternoon.
"It's my new chain," said Hawkins, who hit four threes and scored 13 in KU's 80-68 Big 12 Conference tournament-title victory over Texas.
He wasn't grinning and instead was downright fired up upon hearing some comments from Texas' cheerleaders as he entered the game for the first time.
"I wanted to win bad," he said. "Texas' cheerleaders were talking smack."
The female cheerleaders?
"Yeah, they said, 'You look scared,' right when I went in. The girls were talking during the game."
KU sophomore Darnell Jackson said some of his teammates told him the Longhorns had some things to say before the game.
"When we went out and were warming up, everybody was talking about how Texas was walking around, saying how they'd won the game already," Jackson said. "They forgot the last time they played us they got our worst game (in KU's 25-point loss in Austin on Feb. 25)."
Jackson said the cheerleaders from Texas razzed him after he was fouled and made a basket with 6:43 left in the first half.
Photo Gallery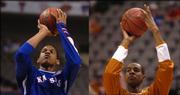 Big 12 Tourney: KU vs. UT
"I got a tip in, they said, 'It's not an and-one, Mr. Jackson.' I smiled and hit the free throw," Jackson said.
¢ New braces: Hawkins grinned when asked about his three-point resurgence. He hit four Saturday against Nebraska and four more Sunday.
"You really want to know the secret to my threes? I forgot my ankle braces. Jeremy Case is the best shooter on the team. I had his on. I forgot mine. They're Case's," Hawkins said.
Will Case let Hawkins continue to use the ankle braces?
"I might as well, right?" Case said with a grin.
¢ Ouch: Jackson was whacked hard on the nose when taking a charge from Kenton Paulino in the first half.
"When I took the charge, he brought his elbow to my nose. I blacked out. It was right on the nostril," said Jackson, who needed time on the bench to recover.
Jackson finished with four boards and three points in eight minutes. He helped slow LaMarcus Aldridge, who had five points after burning KU for 18 in the game at Texas.
¢ Wow: Everybody was buzzing about a pair of Julian Wright dunks. He had a vicious slam after plucking a steal at midcourt with 5:41 left, the dunk giving KU a 67-63 lead. Also, he concluded the scoring by racing in and performing a 360-degree slam jam.
"He did that one before this year. I was expecting something else, but it did put an exclamation point on it for us," Russell Robinson said of the 360.
"That dunk : everybody on the bench and in the building got goosebumps," Jackson said.
Of his steal and jam during the critical juncture of the game, Wright said: "I was going to get there one way or another. Whether it was going to be a finger roll or whatever, but I was alone, and I just turned it into a dunk."
Will his 360 be on SportsCenter?
"You never know," Wright said with a grin. "They'll probably show some of other shots. Our guards were great. They made a lot of three pointers."
¢ Notes: Chalmers had two steals and now is tied for first place on the Big 12 freshman single-season steals list. Nebraska's Cookie Belcher also had 86. : KU has won four Big 12 postseason tourney titles. : KU is 4-1 in Big 12 championship finals. : The selection of Chalmers and Wright doubled the amount of freshmen who have made Big 12 all tourney teams. KU's Jeff Boschee and UT's T.J. Ford were the only other freshmen to earn the honor. : Chalmers became the second freshman to be named tourney MVP. The other was Boschee in 1999.
Copyright 2018 The Lawrence Journal-World. All rights reserved. This material may not be published, broadcast, rewritten or redistributed. We strive to uphold our values for every story published.