The hail was banging against our bedroom windows and thunder clapped just before 7 a.m. Sunday morning. The storm was loud.
But no Thomas.
Thomas is our 10-year-old son. At the first sign of lightning or thunder overnight, he can be found snuggled between my wife Julie and me in our bed, with the covers over his head.
But near 8 a.m., at the height of the storm, still no Thomas.
"They have tornadoes in Kansas," Thomas heard countless times last year when he told his friends in Connecticut that we were moving to Kansas. This was right after his third-grade class had learned about natural disasters. Since then, he's been deathly afraid of tornadoes.
Then the sirens blared. I asked Julie what that was. We turned on the TV to the Channel 6 tower cam and realized that the sirens were warning us of a tornado.
My cell phone rang. It was Joel Mathis, the Journal-World's assistant city editor, who for the past year has been enlightening me about Kansas weather.
"This is the real thing," Joel said. "Head for the basement. Welcome to springtime in Kansas."
Photo Gallery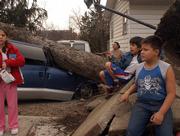 Storm damage
I thanked him.
So, here we were, in the middle of our first Kansas tornado, but where was Thomas?
I checked his room. Not there.
I checked his brother's room. Eric, our 13-year-old, was sound asleep, not hearing a sound. I woke him and told him to head to the basement.
"I call PlayStation," Eric announced as he rumbled down the stairs.
As I headed downstairs, I saw the basement door was open, and I could see light coming from below.
Photo Gallery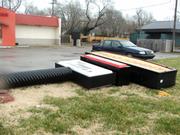 Reader photos: Storm damage
I reached the bottom of the stairs, and there was Thomas sitting quietly by himself on the couch.
"What are you doing here?" I asked him.
With a big smile he said, "What I'm supposed to be doing. I'm taking cover."
Thomas was safe in the basement after hearing the tornado sirens. Besides acquiring a phobia about Kansas storms, he at least learned what to do in case of an emergency.
The house was safe, and so were we. We sympathize with the many people in Lawrence whose homes suffered damage.
But the next time we have a major storm, I hope Thomas brings the rest of us along on his way to the basement.
Copyright 2018 The Lawrence Journal-World. All rights reserved. This material may not be published, broadcast, rewritten or redistributed. We strive to uphold our values for every story published.