Dallas — In a great mood after watching his Kansas University Jayhawks beat Texas for the Big 12 Conference tournament title, coach Bill Self remained cautiously upbeat after watching the NCAA Tournament show with his players, coaches and family members Sunday in American Airlines Center.
"We should be pleased with our seed," Self said after the Jayhawks were awarded a No. 4 seed in the Oakland Regional. "I'm not fired up about playing Bradley."
KU will meet Bradley University of the Missouri Valley Conference on Friday in the Palace of Auburn Hills, just outside of Detroit.
Bradley (20-10 overall, 11-7 MVC) was one of a record four teams in the league to make the tournament, joining Northern Iowa, Wichita State and Southern Illinois.
"From being at Illinois, I know they love their basketball there," Self, a former University of Illinois coach, said of fans of the Peoria, Ill., school. "They have a couple of guys the NBA people are high on."
Those players would be 7-footer Patrick O'Bryant (13.2 ppg average) and 6-7 Marcellus Sommerville (18.4 ppg).
"It's a very tough matchup," Self said, "and whoever wins gets the winner of a tough 5-12 matchup."
Photo Gallery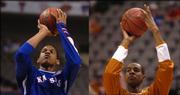 Big 12 Tourney: KU vs. UT
The winner of the KU-Bradley game plays the winner of the game between fifth-seeded Pittsburgh and 12th-seeded Kent State on Sunday for the right to head to the Sweet 16 in Oakland, Calif.
"I've seen Pitt play enough. They are as good as anybody," Self said. "We're excited to be in the tournament. We will not look past anybody."
Self said Bradley might be enthused about playing the Jayhawks.
"Understanding the passion they have for the game (in Peoria), they are probably thinking, 'We are playing a team that made somebody else's season last year.' That would be Bucknell," Self said. "If they win, it could help make their season. They have a very good team. They beat Northern Iowa on Northern Iowa's floor. It will be a tough test."
Self grinned when asked if he'd ask WSU coach Mark Turgeon for tapes on Bradley. Turgeon is a KU graduate.
"This will test Mark Turgeon's loyalty to Kansas," Self said. "I'm sure they have league rules against that. With all the games that we tape, I'm sure we'll be able to find tape on them."
Self wasn't complaining about landing a No. 4 seed moments after beating Texas, a team seeded No. 2 and sent from Austin to nearby Dallas.
"I kind of thought we'd be a 4 before the game started," Self said. "We are not complaining at all about the seed. I just said it's one of the negatives about playing a game that butts right up to the selection show. You might not get a chance to benefit from it from a seeding standpoint, but once you get in, it's all about matchups.
"It's unfortunate you can't go back and re-seed 'em," Self added. "But this is the way you've got to do it. I would say based on our performance before the game, we got what we deserved."
As far as the Big 12 having four teams tapped, Self said that was the number he expected.
"No knock to Colorado," he said, "but RPI : if they use that as a gauge : our league probably wasn't as highly respected nationally this year in large part due to youth. It had nothing to do with how good the league is. We had some losses in our league back in November and December."
KU's players say Bradley presents a tough test.
"We have a very tough pool with Bradley and Pitt in our region," sophomore C.J. Giles noted. "We just need to go out there and play like we have been the last couple of games and we'll be fine."
Of the site, Giles said: "I'd rather go to San Diego because it's closer to home, but this will be good, too. We've just got to go play as hard as we can."
The Jayhawks are wary of Bradley's O'Bryant even without seeing tape on the big guy.
"He is a big guy who plays strong inside," sophomore Sasha Kaun said. "I am going to try to get ready for this game as much as possible. They are a great team, and we'll prepare hard."
"I spoke to coach Self about him," Giles noted, "and he told me he plays a lot like I do. I need to guard him as much as I did (UT's LaMarcus) Aldridge."
If KU beats Bradley on Friday, it will play the Pittsburgh-Kent State winner on Sunday. Winner of that game will meet either Memphis, Oral Roberts, Arkansas or last year's nemesis, Bucknell. Memphis meets Oral Roberts in a 1-16 matchup, and Arkansas tangles with Bucknell in an 8-9 matchup.
Copyright 2018 The Lawrence Journal-World. All rights reserved. This material may not be published, broadcast, rewritten or redistributed. We strive to uphold our values for every story published.