Surprise, Ariz. — Diamondbacks opening-day starter Brandon Webb threw four shutout innings in Arizona's 5-1 victory over the Kansas City Royals on Sunday.
Webb allowed just one single and two walks while striking out five. Webb is 3-0 in three starts and has not allowed a run in nine innings.
"I've been pretty aggressive in the strike zone this spring, locating my pitches and getting ahead early," Webb said. "Johnny (Estrada, Arizona catcher) and I have been using more changeups and curveballs early in the count. The past few years I've stayed with my slider. I'm seeing so much success that I might have to look at that more for this season.
"I felt pretty good out there. I've a little bit ahead of where I've been in the past."
The Royals entered the game with a .333 batting average, the highest in spring training among American League clubs, but managed just three hits off Webb and four Diamondbacks relievers.
Eric Byrnes and Jerry Gil homered for the Diamondbacks.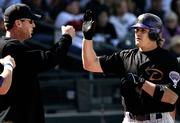 Byrnes' fifth-inning solo shot put Arizona up by two.
The Royals answered when Esteban German doubled in Mark Teahen in the fifth inning for Kansas City's only run.
Royals starter Denny Bautista allowed one run on four hits and a walk in four innings. He walked Luis Gonzalez in the second and he scored on Shawn Green's double. Bautista notched three strikeouts and one walk. Jimmy Gobble took over in the fifth.
The Diamondbacks collected 11 hits and have had 10 or more hits in their first 12 games.
Copyright 2018 The Associated Press. All rights reserved. This material may not be published, broadcast, rewritten or redistributed. We strive to uphold our values for every story published.