A sandbank along the Kansas River near Linwood has served for years as a burial ground for hundreds of old tires and garbage.
Saturday, that all came to an end.
"It kind of became a dumping ground," Friends of the Kaw President Mollie Mangerich said. "Hopefully, it won't happen again."
Mangerich and her group - with help from the Kansas Department of Health and Environment and Amcor Inc. - dug, pulled and shipped the mass of tires away from the sandbank Saturday morning as part of a statewide river cleanup effort.
The effort here drew close to 80 volunteers and state and local coordinators using all-terrain vehicles and trucks to get the decade-old collection of tires and rubbish away from the riverbank.
The threat posed by the tires, coordinators said, was both aesthetic and actual; the tires not only looked bad and clogged the waterway, but also posed a possible toxic danger to the river.
"You don't want to be floating down the river and see a bunch of tires sitting there," Friends of the Kaw member Mike Calwell said while dragging a tire up from the muck. "We want people to use this river and know they won't get sick."
Photo Gallery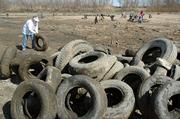 Kansas River clean-up
The group first noticed the tires during a float trip down the river last November. Kansas Riverkeeper Laura Calwell reported the problem to the KDHE, which then allocated limited river cleanup funds to the project.
The department sent environmental scientist Bob Medina to the river to help coordinate the cleanup.
Medina and others suspected that a property owner nearby had set up the tires there years ago to block off water, trying to transform the embankment into farmland.
"These tires aren't doing anything like that," Medina said.
From here, Medina said, the tires will head to a landfill, and at least this portion of the riverbank will begin to reflect the work of the Friends of the Kaw.
The group's goal for clean, usable rivers has begun to come together in recent months, Mike Calwell said. Two boat ramps in Edwardsville and De Soto have been installed, and local-state partnerships like the one on Saturday have completed other cleanup projects.
The dream, he said, was to have all area river cities connected with activities like boat trips and canoe races - creating a sense of community along a body of water.
It's a dream that got a little closer Saturday, with fewer tires blocking the way.
Copyright 2018 The Lawrence Journal-World. All rights reserved. This material may not be published, broadcast, rewritten or redistributed. We strive to uphold our values for every story published.