Greensboro, N.C. — Everything was perfectly set for another Duke-North Carolina final in the Atlantic Coast Conference tournament.
Leave it to the league's newest member to spoil the occasion.
"I don't think we're crashing their party," Boston College coach Al Skinner said. "We're all part of a new league, and you might as well get used to this."
Craig Smith had 23 points and 15 rebounds, and the 11th-ranked Eagles shot 61 percent to beat No. 10 North Carolina, 85-82, in Saturday's semifinals, putting them one win away from the title in their tournament debut.
Jared Dudley scored 21 for the third-seeded Eagles (26-6), who have won 10 of 11 heading into today's matchup with the third-ranked Blue Devils. Freshman Tyrese Rice added 10 points, including a running three-pointer to beat the halftime horn and a pair of big baskets late.
The Eagles won the first meeting, 81-74, in January, and essentially beat the second-seeded Tar Heels (22-7) on the road again. In an arena about 50 miles from Chapel Hill and packed full of fans wearing light blue, the Eagles knocked down seemingly every open look to build a 14-point second-half lead and hold off a late spurt.
Boston College hit 33 of 54 shots, including an 8-for-16 effort from three-point range, and took a 36-28 rebounding advantage.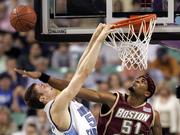 "They were a load for us today," North Carolina coach Roy Williams said, "no question about that."
Tyler Hansbrough had 23 points and 11 rebounds to lead North Carolina, which had won 11 of 12 coming in.
No. 3 Duke 78, Wake Forest 66
Greensboro, N.C. - With J.J. Redick hobbled by a knee injury, freshmen Greg Paulus and Josh McRoberts stepped in to carry Duke to familiar territory - the final of the ACC tournament.
Paulus had a career-high 18 points, McRoberts added 13, and the Blue Devils (29-3) survived a tense, emotional game.
Redick left for about four minutes in the first half after he fell trying to draw a charge. He noticeably limped his way to 20 points on 6-of-17 from the floor.
Eric Williams had 23 points and 12 rebounds for the Demon Deacons (17-16).
Copyright 2018 The Associated Press. All rights reserved. This material may not be published, broadcast, rewritten or redistributed. We strive to uphold our values for every story published.