Chuck Marsh figures many of his fellow Kansas University faculty members are spiritual or religious people.
But the topic doesn't come up often in conversation.
"We don't talk much about it," says Marsh, an associate professor of journalism. "I think and I hope good professors are introspective people. We'd better be. I could see how that leads to spirituality."
A new study out of the Higher Education Research Institute at the University of California-Los Angeles sheds new light on the issue of faith among faculty and helps debunk the perception that university faculties are dominated by atheists and agnostics.
The study, "Spirituality and the Professoriate," says 81 percent of the more than 40,000 faculty surveyed nationwide consider themselves to be "spiritual" people. Sixty-four percent consider themselves to be "religious," and 61 percent report they pray or meditate.
Thad Holcombe, director of Ecumenical Christian Ministries, 1204 Oread Ave., says he's not surprised a high percentage of faculty are "spiritual," considering the wide range of possibilities that encompasses.
Holcombe, who comes into contact with faculty members regularly, says fear of having their spiritual or religious beliefs distorted often keeps them from discussing those beliefs on campus.
"They will (discuss their beliefs) if broached, but they don't typically bring it up on their own," Holcombe says. "I would hope that faculty would feel free to share their perspective, whatever that is. They might be hesitant of being seen as sectarian if they identify with a faith tradition. Even if they don't present it that way, they might feel like they might be misunderstood."
That has been Marsh's experience at KU. He says his church, Plymouth Congregational Church, 925 Vt., had a meeting for faculty members on Sunday mornings a few years ago.
"We would talk shop and talk about faith, and talk about how that entered, if it did, into our daily jobs," Marsh says. "That was fun and very informative."
Student spirituality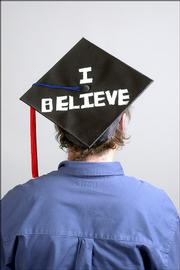 Determining the role of faculty in developing the spiritual lives of students may be a difficult issue.
In a previous study, the Higher Education Research Institute found that 48 percent of college freshmen say it is "essential" or "very important" that colleges encourage personal expression of spirituality.
Thomas Heilke, a professor of political science and associate dean of international programs at KU, says although spirituality is rarely addressed specifically in courses, the topic comes into play through other issues covered in the classroom.
"If it's true that we're spiritual beings, then it doesn't matter what kind of topic or subject matter we're addressing, (spirituality) is going to be part of what we're addressing in the classroom," he says.
But Heilke, who is an adviser to InterVarsity Christian Fellowship and attends Peace Mennonite Church, says professors must be careful not to cross a line.
"As a secular state institution, in an official way, I don't think" spirituality should be endorsed, he says. "But obviously it's going to come out in certain courses. Spirituality is an experience which is beset with all kinds of doctrinal and ideological minefields. It's something you have to be careful with. We're not here to proselytize, so you have to be careful."
Questioning faith
Beth Schultz, a retired English professor at KU, says it's natural for faculty to have a spiritual dimension.
Schultz, clerk for the Oread Friends Meeting, says professors spend their time examining the world around them. When they realize they can't understand everything, that often leads to a spiritual dimension.
"I think a concern for the spiritual is a concern for that which we cannot understand with any absoluteness or totality," she says. "They may associate that to God, gods plural, or they may associate that with the psyche."
She says it's faculty members' jobs to encourage that same sense of questioning in their students' lives, on all levels.
"I think it applies to anyone who is a student of life," Schultz says. "In terms of the university and academics, we are committed to encouraging people to think critically, and that is to question.
"If you embark on a life of full consciousness, you embark on a study and realize you can't know everything. And that might well lead you to recognize the importance of a spiritual dimension in our lives."
Copyright 2017 The Lawrence Journal-World. All rights reserved. This material may not be published, broadcast, rewritten or redistributed. We strive to uphold our values for every story published.