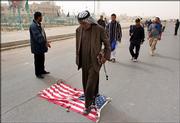 Baghdad, Iraq — Iraq's president issued a decree Friday calling the new parliament into session March 19 for the first time since it was elected nearly three months ago, saying he feared "catastrophe" and "civil war" if politicians could not put aside their differences.
U.S. Ambassador Zalmay Khalilzad said he hoped leaders of all Iraqi factions would soon join him some place outside Baghdad to talk round the clock to resolve political feuds - most visibly over the proposed second-term candidacy of Prime Minister Ibrahim al-Jaafari, a Shiite.
The stakes are high for the Americans, who want a strong and functioning central government in place quickly to enable Washington to begin removing some of its 132,000 troops this summer.
In Washington, President Bush acknowledged Friday that the bombing of a Shiite Muslim shrine late last month and the subsequent sectarian violence, which killed hundreds, had nearly derailed the U.S. goal. The situation also remains dangerous for foreigners, especially civilians not associated with coalition forces.
"There's no question there was violence and killing," Bush said in advance of a series of speeches he plans in a campaign to convince Americans that the United States is on the right path to defeat Iraqi terrorists and insurgents.
But, echoing the assessment of Gen. George Casey, the U.S. commander in Iraq, Bush said, "The society took a step back from the abyss, and people took a sober reflection about what a civil war would mean."
Copyright 2018 The Associated Press. All rights reserved. This material may not be published, broadcast, rewritten or redistributed. We strive to uphold our values for every story published.