Paris — Police stormed France's famed Sorbonne University early today to dislodge students occupying the building in protest of a new national employment measure, hours after the demonstrators hurled furniture and ladders from the landmark's windows.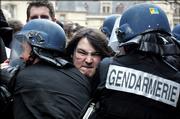 About 80 helmeted riot officers moved into an inner courtyard under the dome of the centuries-old building and, after a brief standoff, forced them out. About 600 students had entered the building earlier to join a sit-in that began Wednesday.
The students, along with the country's powerful unions and other protesters in recent weeks, are trying to force the government to withdraw the measure that would make it easier for companies to fire workers younger than 26.
The government hopes the flexibility will spur employers to hire young people, safe in the knowledge that they will be able to get rid of them if they have to.
Critics say it would offer younger workers less job security than older colleagues and undermine France's generous labor protections.
The Sorbonne protesters had clambered in through windows after breaking through police lines to join the small group holding the sit-in, said university administrators.
The mass occupation followed confrontations between protesters and police ringing the building, which was forced to close.
Copyright 2018 The Associated Press. All rights reserved. This material may not be published, broadcast, rewritten or redistributed. We strive to uphold our values for every story published.