Memphis, Tenn. — Almost 1,000 days before the elections of 2008, nearly 2,000 Republicans from the South and Midwest have come to Memphis looking for a new president.
Their four-day gathering this weekend is part circus, part rolling cocktail party and part serious business, with half a dozen prospective presidential candidates scheduled to speak, many of those candidates also holding get-acquainted meetings with party leaders and a straw poll that already was causing controversy Friday afternoon.
At a time when President Bush is at low ebb, concluding what one top GOP strategist here called the worst week of his presidency with the collapse of the administration-backed ports deal with a Dubai company, the weekend offered party activists a respite from a season of unhappiness and the opportunity to think about what and who it will take to hold the White House in 2008. The weekend probably will provide some early clues as to how those seeking the presidency will maneuver between loyalty to the incumbent and setting the party on a new course for the post-Bush era.
The gathering comes at a time of growing separation between congressional Republicans and the White House, and of fissures within a party famous for its discipline the past six years. Bridging those differences will not be easy.
"I think the party is looking for easy, simple solutions at a time when the problems the country faces are harder, more difficult and more complicated to deal with," said Daniel Casse, who was an adviser to Sen. Lamar Alexander, R-Tenn., when Alexander ran for president.
Most of the major prospective candidates will speak this weekend. Massachusetts Gov. Mitt Romney helped open the first formal session Friday afternoon, drawing his strongest applause by stressing his opposition to same-sex marriage. Arizona Sen. John McCain was scheduled to give one of the last speeches of the day.
Today, delegates will hear from Virginia Sen. George Allen, Kansas Sen. Sam Brownback, Arkansas Gov. Mike Huckabee and home-state favorite Sen. Bill Frist, whose team has worked hardest to organize for the straw poll.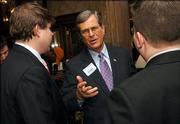 Several possible candidates are missing, however, among them former New York mayor Rudolph Giuliani, former House speaker Newt Gingrich and New York Gov. George Pataki, all of whom were unable to attend. Colorado Rep. Tom Tancredo, whose anti-immigration speeches have drawn support among conservatives and who has hinted at a possible 2008 campaign, was not invited.
"It's the first time all the candidates will be judged in comparison to others, so they need to be cognizant of people beginning to see this as a choice," Matthew Dowd, who was chief strategist for Bush's 2004 re-election campaign, said in an e-mail message.
New Hampshire Republican National Committeeman Tom Rath, who came for the opening day, said the 2008 race has begun earlier than previous election cycles for several reasons. First, there is no heir apparent to Bush, which makes this one of the most open Republican primaries in decades. Next, with money likely to be more important than ever, candidates need to begin courting Republican donors, many of them Bush loyalists and few of whom have signaled with their checkbooks which way they are leaning.
Finally there is the fear of Sen. Hillary Rodham Clinton, D-N.Y., whom many Republicans see as the probable Democratic nominee and no pushover in a general election. "She more than anyone will unite this party," Rath said.
"They're going to be looked at for who can be electable," said Alec Poitevint, the Georgia Republican Party chairman. "We're not going to nominate someone who doesn't believe in genuine Republican philosophy, but there's going to be debate about whether we can win in 2008."
Copyright 2018 The Lawrence Journal-World. All rights reserved. This material may not be published, broadcast, rewritten or redistributed. We strive to uphold our values for every story published.