Washington — The scuttling by Congress of a Dubai-owned company's bid to gain control of U.S. port operations is unlikely to trigger negative economic consequences unless it is followed by dramatic changes to the laws governing foreign investment in the United States, global trade experts said Friday.
Imposing new restrictions on foreign company takeovers would shrink the field of potential investors on American soil and almost certainly lead to retaliatory actions by other nations, said Todd Malan, executive director of the Washington-based Organization for International Investment.
Malan, whose group represents overseas companies with operations in the United States, noted that the stakes are not small for Americans: Such operations own $2.9 trillion worth of shares in foreign companies through mutual funds, pension funds and direct investments. U.S. exports totaled $1.12 trillion in 2005, or roughly 10 percent of the country's gross domestic product, according to Commerce Department data.
Foreign direct investment in the United States exceeded $1.5 trillion in 2004, the most recent year for which statistics were available from the Commerce Department. Of that, roughly two-thirds came from Europe, compared with $17.8 billion, or about 1 percent, from the Middle East.
Republican and Democratic lawmakers cited national security as their reason for defying President Bush and pushing to block the takeover of six ports around the country by Dubai Ports World, much as they did last summer in threatening to stop a China-owned oil company from acquiring Unocal Corp.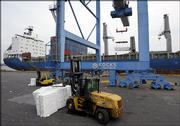 "A year from now we're all going to be embarrassed by this," said William Reinsch, president of the Washington-based National Foreign Trade Council, which was founded by American companies in 1914 to promote free trade around the world.
Outside experts said they fear that as a protectionist bandwagon gains momentum in Congress, the process by which the government has reviewed foreign investment for the past 30 years would become more politicized. There also are concerns that American businesses will increasingly seize on the new political environment to gain advantages against international rivals when investment proposals come before the federal Committee on Foreign Investment in the United States, or CFIUS.
The uncertainty stirred up by the scuttled Dubai Ports deal - including a bill in Congress that would shift control of CFIUS from the Treasury Department to the Homeland Security Department and another bill that would broaden the definition of "critical infrastructure" - already has soured some defense-sector deals, according to Brett Lambert, managing partner of the Densmore Group, a defense industry consultant.
Copyright 2018 The Associated Press. All rights reserved. This material may not be published, broadcast, rewritten or redistributed. We strive to uphold our values for every story published.